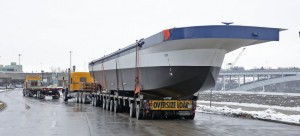 With The Maid of the Mist no longer operating in Niagara Falls, Ont., Hornblower Niagara Cruises has taken over this "must-do" experience. This tour will get you as close as possible to the falls letting you feel the mist engulf your body. As it sails up the Niagara River, past the American Falls and the Bridal Veil Falls the Hornblower Thunder and Wonder ships find their place right in the middle of the Horseshoe Falls.
With four tours to choose from, every one offers a unique way to experience Niagara Falls and the beauty of this natural phenomenon.
Voyage to the Falls Boat Tour
This tour will provide all of your Niagara Falls needs with its view of the falls as it sails up the Niagara River. This tour departs every 15 minutes so there are plenty of moments to catch a ride. With access to the Lower Landing and falls viewing area, experience the falls with this all-in-one tour.
Sunset Cocktail Cruise
Enjoy the Voyage to the falls, with a twist, on the Sunset Cocktail Cruise. With an extended 30 minute evening tour, this cruise is ideal for a night of romance. With a licensed bar and light snacks available, watch the sunset while indulging in wine from the Niagara region.
Falls Illumination Cruise
Experience the illumination of the falls on this version of the evening cruise. In 30 minutes you'll experience the rainbow coloured illumination of the falls right up close. This evening cruise will blow you and your family away as you experience the illumination from the Lower Landing and the falls viewing areas of the boats.
Falls Fireworks Cruise
The famous fireworks that illuminate Niagara Falls are an eventful and unique part of visiting Niagara Falls. This cruise will embrace the majesty of the fireworks and the falls as you sail through the Niagara Gorge while the colourful fireworks light up the sky above.
Niagara Falls is full of rich history that will come alive during the Hornblower Niagara Cruises. Experience the Falls close up and personal with this unique attraction suitable for the entire family.
Share This