One of Niagara's biggest draws is its appeal as an ideal family vacation destination. Families from all over the world come to Niagara to experience the beauty of the falls and to take part in the many different activities and attractions that are perfect for family fun.
With so many activities to choose from, it can be difficult to ensure that each family member has a good time. We've included some of Niagara's most popular attractions, and everyone is certain to find something to enjoy.
Fallsview Indoor Water Park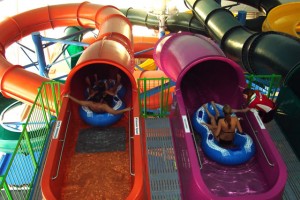 Located on the Canadian side of the Falls, the Fallsview Indoor Water Park is part of the largest hotel and water park complex in North America, the Falls Avenue Resort. This complex contains three hotels in addition to the water park, which makes it an ideal location for a family getaway.
This water park covers three acres and stands more than eight stories high; plus it contains a number of rides and activities that are suitable for all ages and swimming abilities. Any one of the 16 water slides will take your breath away, there is an adults-only hot tub, a sun deck, and areas that are safe and fun for toddlers and other small children.
Many dining and shopping options are available within the Falls Avenue Resort, which means you'll have more time for fun. If you are looking for a package deal for a family of four, we have you covered.
Hershey's Chocolate World
If there's a member of your group who doesn't like chocolate, perhaps you could just ask them to wait outside while everyone else visits this amazing store. Located inside the Crowne Plaza, this 7,000-square-foot shop offers everything a chocolate lover has ever dreamed of.
If you've ever wanted a five-pound bar of chocolate, you can find one here. If the world's largest Reese's Peanut Butter Cup is on your shopping list, look no further. In addition to the standard candy shop fare, Hershey's Chocolate World offers milkshakes, freshly baked cookies and chocolate-dipped strawberries as well.
Aquarium of Niagara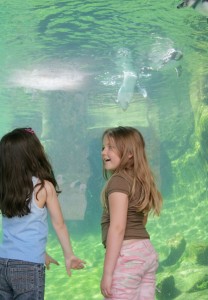 For the animal lovers in your family a trip to the Aquarium of Niagara is must. This world-class aquarium boasts a number of aquatic mammals and birds, not to mention myriad fish species, and it gives visitors the chance to see many of them up close. The aquarium is home to a number of species, both large and small. These include sharks, sea horses, sturgeon, numerous reef fish, and more.
The penguins and the sea lions are always popular aquarium residents. Guests can schedule their visit around the animals' feeding times, and, for an added fee, guests can even help the animal experts feed the harbor seals or interact with the penguins.
While these are just a few of the many attractions in Niagara that are perfect for families, they're also among the area's most popular. Many hotels in the area have created packages that include rooms and tickets for various attractions and tours, which makes it a great way to plan your visit. Take a closer look at these and some of Niagara's other amazingly fun attractions, then get ready to plan your perfect family getaway.
Share This