This year's Niagara Falls Winter Festival of Lights will be an enchanting experience featuring an 8km illumination route and exciting events that are sure to be a highlight of a winter visit to Niagara.  The 37th annual Winter Festival of Lights kicks off on November 16th, 2019 with an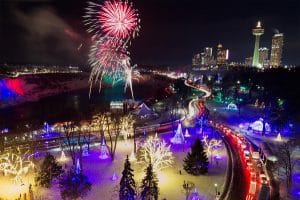 Opening Ceremony celebration in Queen Victoria Park. This all-ages event is free and features live entertainment in addition to official lighting of displays.  A treasured holiday tradition for people from around the world, the Winter Festival of Lights draws more than a million visitors each season, who come to admire the 3 million lights situated along the Niagara Parkway.
Brilliant light displays include the iconic Zimmerman Fountain, fifteen three-dimensional Canadian Wildlife displays, the world's largest Canadian-American Flag, Noah's Ark, lights at the top of the iconic Skylon Tower, more than fifty trees in Dufferin Islands wrapped with lights and the Toronto Power Generating Station Light Show.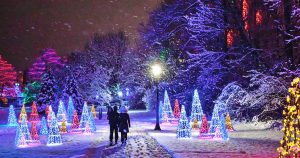 Niagara Falls fully transforms into a winter paradise with no spot untouched by the joyous dazzling lights. The Winter Festival of Lights is an amazing Niagara Falls tradition full of displays, and events full of Holiday spirit. Plan your Niagara Falls getaway today to see the magical displays in person and stay at the Marriott Fallsview to enhance your experience.