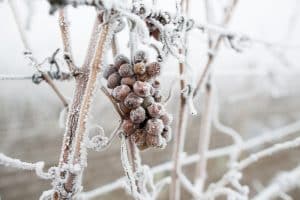 Winter in Niagara Falls is undoubtedly cold. That includes the wine! If you've ever wondered, "Does wine freeze?", you might be interested Canadian ice wine, a very unique libation. (And the answer is, yes, wine can freeze – so avoid putting yours in the freezer!)
Ice wine is a famous Niagara Falls drink. Learn about what ice wine is, what it tastes like and what it pairs with, along with the places with the best Canadian ice wine so you can create your own Canadian-side Niagara wine trail to explore.
What Is Ice Wine?
Ice wine is a sweet wine, usually served with dessert or at the end of a meal, that's made from frozen grapes. It's one of the most labour-intensive wines to make, but the effort that goes into producing it is so worth the taste to wine lovers from around the world.
While frozen grapes are still on the vine at around -7°C (20°F), they're plucked and pressed while they're still frozen. Canada is the largest producer of ice wine, though you can find it from countries like Germany and Austria, too.
Ice wine typically has about double the sweetness of a classic soda. Because the juice is so sweet, fermentation lasts between 2 to 6 months. Ice wines typically have around a 10 percent ABV.
Ice wine varieties include Riesling, Cabernet Franc, Chenin Blanc, Vidal Blanc and Merlot. A wine can only be labelled as "ice wine" if it is made from naturally frozen grapes that were harvested from the vine. Wines featuring commercially frozen grapes may be labelled as "dessert wine" or "iced wine."
If you want true ice wine from natural frozen grapes, Niagara Falls is a great place to go.
What Does Ice Wine Taste Like?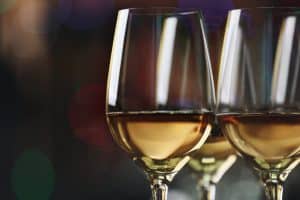 As mentioned, ice wine is very sweet. It can come in a variety of flavours, like fruit flavours and chocolate flavour. This makes it great to sip while enjoying dessert.
Ice wine's sweetness also makes it best paired with rich flavoured foods, like cheese and foie gras. Fatty foods can help balance out the taste profile with the sweetness of the wine. If you're having ice wine for a late-night snack or want to drink it before or during your meal, opt for a heavier, fattier food option.
Where Can You Get Ice Wine in Niagara Falls, Canada?
There are lots of places in Niagara Falls to get superb Canadian ice wine. Here's a look at some Niagara Falls wineries we recommend. Hop from place to place for a true Canadian Niagara Falls wine trail where you can sample some top ice wines.
Peller Estates Winery
Peller Estates has its own 10Below Icewine Lounge, where you can experience how cold it is during an ice wine harvest for yourself. There are also ice wine vineyard hikes, or take one of the many daily tours offered at the winery.
Reif Estate Winery
Reif Estate Winery has been producing ice wine since 1984 and has since received more than 100 awards for its varieties. You can sample ice wine at the sensory wine bar, join a public wine tour, or book a private tour or tasting.
Inniskillin
Inniskillin's Niagara Falls winery features several different types of ice wine, including Vidal Ice Wine, Riesling Ice Wine, Cabernet Fran Ice Wine and Sparkling Ice Wine. Inniskillin's ice wines are sold in more than 70 countries. Sample one on a tour or at a tasting or event year-round.
Strewn Winery
Strewn Winery also produces a variety of ice wines, including some with unique flavours. Their 2013 Riesling ice wine had aromas of orange marmalade with pineapple and tropical fruit, for example. Sample wine at a Saturday cooking class, or grab a seat at the bar for tastings.
Pillitteri Estates Winery
The ice wines from Pillitteri Estates Winery have been recognized in worldwide wine competitions. Taste them for yourself at a daily tour, or visit the winery for wine tastings including tasting flights.
Trius Winery
Trius Winery has Cabernet Franc, Riesling and Vidal ice wines available. You can sample them on one of many types of winery tours available, including an "Into the Vault Experience." Or, dine at the winery's restaurant, and pair a glass (or a few) with your meal.
Ice House Winery
The Ice House Winery calls its staff the ice wine specialists of Niagara. You can try one of several types of ice wines here, or go daring and ask about the Ice House slushies.
Jackson-Triggs
Jackson-Triggs is Canada's "most awarded winery." It offers several types of ice wine, including Riesling, Vidal and Cabernet Franc. There's an on-site amphitheatre, where you can enjoy ice wine while you take in a concert. Or head to the winery for a tour and some samples.
Want to Try Authentic Ice Wine? Book a Niagara Falls Trip
Sampling ice wine is one of the most fun Niagara Falls activities you can do. With so many spectacular Niagara Falls wineries offering ice wine experiences, it's easy to build your own Niagara Falls wine trail day and sample them all.
First thing's first with a visit to Niagara Falls – book your stay. The Sheraton Fallsview Hotel is happy to help you plan your ice wine visit, with help for transportation and anything else you need. Book a Niagara Falls vacation.
Share This