Looking for the best place to ask your loved one to be your forever? You can't beat Niagara Falls, known for being one of the most romantic places in the world, this World Wonder could give you the ambiance you need to get a guaranteed yes.
Niagara Falls has been the spot for countless engagements, weddings and romantic trips. We even saw the famous Jim and Pam wedding from The Office take place here!
Rushing waters and the sheer grandiosity of this breathtaking natural site make Niagara Falls the ultimate dream engagement spot. If you're a newbie to Canada, you can also plan the trip of a lifetime by visiting the Niagara Falls Canada side. Explore what this wonderful country has to offer as you bask in your declared commitment as a couple.
At Marriott Niagara Falls, we can even help you plan with whatever you need for an unforgettable Niagara Falls engagement. Here's how to set up the perfect Niagara Falls winter engagement – or one for any time of year. If the Marriott Niagara Falls team can help at all, please let us know.
1. Find the Perfect Place
The actual Niagara Falls is a no-brainer backdrop, but you'll also want to consider venues nearby for that oh-so-special ambiance. Might we suggest: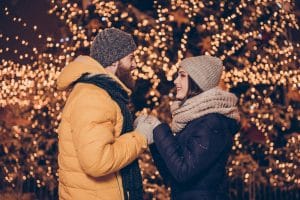 A Fallsview restaurant, like Morton's Grille Niagara Falls or Milestones on the Falls, which provide picturesque views of the roaring falls and deliciously delectable bites and drinks to celebrate.
The Rainbow Bridge or Niagara SkyWheel, which are outdoor spots with close-up views of Niagara Falls.
A boat ride like Hornblower Niagara Cruises, which is a unique excursion for popping the question, or you might consider one of Niagara Falls' many wineries.
Whether you're looking for a prime spot in front of one of the world's wonders, or you want to get engaged in a postcard-worthy winery, you have lots of romantic location options in the Niagara Falls area.
2. Get a Photographer
Sure, you could always hand your smartphone to someone nearby to capture the moment, but you could also hire a professional photographer to snap some shots of your engagement you can treasure forever. Marriott on the Falls has an on-site wedding planner, so we have loads of connections to some of the best photographers in Canada.
Even though you're just in the beginning phases of your upcoming nuptials, we can help you make sure a talented pro is on-hand to shoot photos of your proposal, wherever it is.
3. Plan the Right Timing
Want the night to illuminate as you're getting down on one knee? One of the coolest things about Niagara Falls is the fireworks schedule. During Niagara Falls winter, there are some weeks when firework shows occur every night. You can time your proposal to coincide perfectly with the night sky lighting up.
Or, check out the Niagara Falls events calendar to see special events that might be a great time to pop the question. There's always something fun and festive going on, whatever you're into.
4. Organize How You'll Do It
It might only take a minute or two, but a proposal is often one of the most meaningful events people experience in life. It can also be high-pressure and nerve wracking (but amazing once it's all done!), which is why it might be helpful to collect your thoughts and write down some heartfelt words beforehand. That way, when you propose, you'll have a clearer message and can say exactly what you want.
You should also think about if you'll go traditional and get down on one knee, so you can make sure the spot you choose has enough room for you to do so. And don't forget the ring!
5. Book a Comfortable Place to Stay
Like we mentioned, Marriott Niagara Falls absolutely loves planning weddings and all related events, including engagements! If you need advanced or last-minute assistance, our concierge team is here to help. From venue suggestions, to engagement photographers, to making your meal at our hotel extra-special, just tell us what you want to plan, and we'll help however we can.
And, before and after the engagement, you'll want an ultra-romantic place to stay and create more memories. We have luxurious packages to choose from, including:
Niagara Wine Package, which includes a spacious room, a wine country touring pass for two with complimentary tasting flights, a free delicious bottle of wine sent right to your room, and a $20 dinner voucher for Milestones on the Falls.
Niagara Falls Spa Package, which includes a beautiful room, an hour-long restorative massage at the Serenity Spa by the Falls, an endless breakfast buffet at Marriott Fallsview Café, and a $20 dinner credit for Milestones on the Falls.
Find a room you'll love at Marriott Niagara Falls. Comfy beds, views of Niagara Falls, lots of space for rest and relaxation and a serene atmosphere provide everything you could need to complete your romantic Niagara Falls engagement. Check out Marriott Niagara Falls room options here.
Share This