A Niagara Falls winter is a different kind of beautiful. Avid hikers love winter hiking in Niagara Falls, even when Niagara Falls frozen temperatures kick in.
If you're interested in Niagara Falls camping and can withstand the cold, you'll love  some of these Niagara Falls winter hiking spots. Grab your hiking gear and hiking checklist:
Warm clothes you can easily layer
Water bottles, water and snacks
Backpack for carrying your hiking gear
Hat and sunscreen
Sturdy hiking shoes that can withstand water and mud
Pack your gear and get ready for a unique winter hiking experience unlike any other in the world. Here is a list of the best winter hiking spots in the Niagara area:
1. Niagara Glen
Niagara Glen is located in the Niagara Gorge. Take a stairway to 4 km (2.5 miles) of paths through the Carolinian Forest. There are some climbs there that are not that steep, as well as challenging climbs for more experienced hikers.
Be aware that there is an elevation change of more than 60 m (200 feet) amid the trails, so make sure your hiking checklist includes proper footwear to navigate the rugged terrain. Explore native biology and geology as you hike.
2. Long Beach Conservation Area
The Long Beach Conservation Area has flat hiking trails through 56 hectares. It's a popular spot for Niagara Falls camping in the summer, and in the winter, hikers like it because it's relatively easy to navigate because there's no change in elevation.
Walk along sandy beaches and take in water views. You can also head into forested lands along the way for a more diverse hiking experience.
3. Ball's Falls and Bruce Trail
The Ball's Falls conservation area features small trail systems throughout it, making it a good Niagara Falls winter hiking option. It's on the Bruce Trail, which passes all four of the Welland Canals and some wineries in the Niagara wine region. Just be careful to stay sober enough that you can hike safely back on the trail.
As you're hiking Ball's Falls, you can stop at landmark sites like two waterfalls, an operational mill and historic buildings. Ball's Falls spans 80 hectares (200 acres). Try the Cataract Trail, which includes diverse scenery and plants.
4. Niagara River Recreation Trail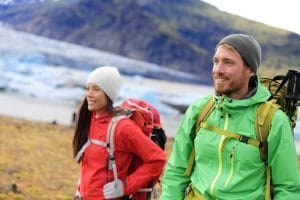 The Niagara River Recreation Trail has been around since 1986 and takes visitors through gorgeous Niagara Falls countryside. This paved path spans 53 km along the Canadian side of the Niagara River and is divided into four scenic sections. Each one takes around 1 to 2 hours to traverse at a leisurely pace, so plan for that time if you're adding it to your winter hiking itinerary.
The trail includes distance markings every 500 metres. Try any of the following routes: Black Creek to Fort Erie, Chippawa to Black Creek, Queenston to the Whirlpool Aero Car, or Niagara-on-the-Lake to Queenston.
5. Beamer Memorial Conversation Area Trail
The Beamer Memorial Conservation Area Trail is a 10 km trail that operates year-round and gives hikers a view of wildlife and hawk migration. It offers panoramic views of Lake Ontario and the Niagara Escarpment and includes several viewing platforms.
As you're walking, look above frequently, because you might be able to see birds like turkey vultures or bald eagles. The trail's surface is a combination of rock and boardwalk, and along the trail you can find picnic areas and washrooms. If you're into snowshoeing, you can give that a try on the Beamer Memorial Conversation Area Trail, too.
6. DeCew Falls Loop
The DeCew Falls Loop is a 2.6 km loop trail located near St. Catharines. It's a trail suitable for all skill levels and features a lake view.
The DeCew Falls includes two main waterfalls: the Upper DeCew Falls, which is a 22 m-plunge waterfall that's one of the Niagara Escarpment Waterfalls, and the Lower DeCew Falls, which is a 25-foot steep cascade waterfall. The DeCew Falls Loop is accessible from the Bruce Trail.
7. Black Walnut Trail and Swayzee Falls Loop
The Black Walnut Trail and Swayzee Falls Loop is an 11.4 km loop that is a moderate trail with a forest setting. You'll encounter lots of beautiful flowers, birds and wildlife on the trail. You can even bring your own, since dogs are permissible as long as they're on a leash.
Wear sturdy footwear that can withstand mud and water when you walk this trail. Or, strap on a pair of snowshoes for your Niagara Falls hiking adventure.
Rest and Relax After Your Hike
A day or week full of Niagara Falls winter hiking calls for some rest and relaxation when you're done. Book a stay at the Marriott on the Falls Niagara Falls hotel for comfy and warm beds, on-site spa treatments and so much more.
Share This