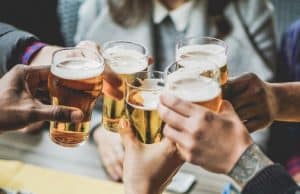 Niagara Falls area is well-known for vineyards and wineries, such as the Tawse winery, but the region is also home to many fine beer breweries. If you're looking to taste some of the best wine and beer Canada has to offer, check out some of these great breweries and wineries. Some of them are even within walking distance of some of the best, centrally-located Niagara Falls hotels in Canada.
1) Niagara Brewing Company
Located only 650 feet (200 meters) from the Falls, Niagara Brewing Company is the newest craft brewery to grace the shores of the Niagara River. Niagara Brewing Company's brewmaster, Rick Neheli, strives to combine the best of Canada's brewing heritage with the best of the modern craft brewing scene. The result is delicious amber ales, IPAs, and lagers. Niagara Brewing Company also serves a small menu of sandwiches, pizzas, and appetizers.
2) Tawse Winery
Tawse Winery is a family-owned winery located on the slopes of the Niagara Escarpment. Since 2005, this state-of-the-art craft winery has been making sparkling, white, red, rose and icewines, many of which have raked in titles year after year at the National Wine Awards of Canada. Tawse has been named Winery of the Year four times, in 2010, 2011, 2012 by National Wine Awards of Canada, and in 2016 by WineAlign.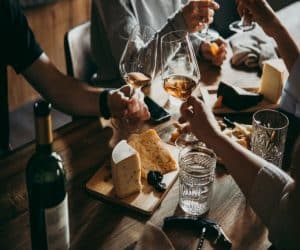 3) Niagara College Teaching Winery
Since 2000, the Niagara College Teaching Winery has been educating students in every aspect of the viniculture and winemaking process. Students have access to 38 acres of vineyards, and learn how to grow grapes, make wine and manage the business side of running a winery. Graduate students at the college receive a comprehensive education in the business and science of making wine. The winery and brewery are open to the public for tours, and groups of six or more can book special experience tours, such as the Sensory Lesson or the Bachelorette Experience.
4) Weinkeller
Weinkeller is more than just a winery – it's also a farm-to-table fresh food experience. This restaurant and craft winery is located just one block from Clifton Hill, so it's a great place to hit up while you're out making the most of your family's attractions passes. In addition to wines made on the premises, you can also sample other great local wines while you're eating some delicious food.
5) Inniskillin Wines
Inniskillin has two wineries; one is in British Columbia, and the other is in Niagara-on-the-Lake. If you choose one of the many Niagara Falls packages for winery tours, you'll no doubt go to Inniskillin, which has been making award-winning and world-renowned table wines and icewines for over 35 years. Try the Vidal (Gold) Icewine 2014, which won Platinum at the Decanter World Wine Awards and Gold Outstanding at the International Wine and Spirit Competition.
6) LOCAL Wine & Beer Co.
LOCAL Wine & Beer Co. takes a different approach to craft wine and beer making – they make your beer and wine just for you. How does that work? For beer, you place an order, and then 15 days later, you come and pick it up after it has been fermented, filtered and packaged. The process is the same for wine, but takes longer – you can pick the wine up either 30 to 60 days later, or, if you prefer aged wine, 180 to 540 days later.
7) Silversmith Brewing Co.
Silversmith Brewing Co. is located in a church that was built in the 1890s, so a visit to their beer hall is full of rustic and historic country charm. Beers available include a Bavarian wheat, an English pale ale, a golden ale, a black lager and seasonal brews. Fresh food is served, and brewery tours are available on weekends.
8) Magnotta
For 25 years, Magnotta has been growing grapes in 180 acres of vineyards in the Niagara region. Additional grapes come from local independent viniculturists. Public tours of the Vaughan and Beamsville vineyards are free and take place at 2:00 p.m. every day.
9) Taps on Queen Brewhouse & Grill
The Taps on Queen Brewhouse & Grill serves several beers and beer cocktails brewed in-house, including a red cream ale, a lager, a Belgian wit and an IPA. Taps on Queen also offers a few beers from other local breweries. Enjoy live music on Tuesdays and Saturdays while you savor an in-house beer and some delicious food.
10) The Ice House Winery
Icewine is a local specialty, and there may be no better place to sample it than the Ice House Winery. The Ice House Winery offers some of the region's best icewines, sold in the bottle or mixed into slushies or cocktails. The winery is open to serve drinks without a reservation, and visitors can even rent the winery's lake house, which makes the perfect retreat for a family getaway.
The Niagara Falls area is home to a number of fine breweries, vineyards and wineries. If you like sampling new craft wines and beers, you'll be delighted at all Niagara Falls has to offer.
Share This