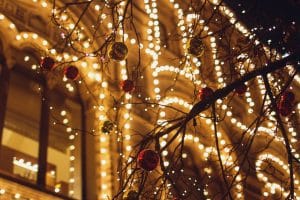 How can a Niagara Falls Christmas be complete without a visit to the Ultimate Christmas Village? Located in Niagara-on-the-Lake in Niagara Falls (Canada side), the Heritage District of Niagara Falls, the Ultimate Christmas Village is a dazzling display of holiday cheer. From beautiful decorations lining up the streets, to special holiday-themed entertainment, dining and events, there's something Christmas-y to do every day during the season, which goes from November through January for extra Christmas cheer.
Make a Niagara Falls winter vacation more special by visiting this amazing destination, which features gorgeous light displays and tons of Niagara Falls events for the whole family to enjoy. Whether you're into wine, theatre, great food, ice skating or all of the above, here's what you can expect when you go to the Ultimate Christmas Village, a must-see attraction in Niagara Falls winter:
What Is the Ultimate Christmas Village?
The title of "Ultimate Christmas Village" is one Niagara-on-the-Lake has enjoyed since 2017. All the local businesses in the area get in the Christmas spirit, with Christmas lights strung up around the outlines of the buildings to light up the area.
In addition to seeing historic sites and businesses get Christmas-fied, there are special events throughout the holiday season here. The latest Ultimate Christmas Village takes place through January 2, 2019, and decorations and festivities typically kick off in November every year.
Family-Friendly Niagara Falls Events at the Ultimate Christmas Village
There are lots of fun special things to do during the Ultimate Christmas Village. While events are subject to change every year, here's an idea of what you can experience.
Theatre Plays
The Royal George Theatre is home to a diverse line-up of theatrical productions. During the Ultimate Christmas Village, you might see a holiday-themed one, like A Christmas Carol. Talented local actors bring Christmas theatre to life on stage.
Winery Tours
Niagara Falls is home to dozens of wineries, and that includes many in Niagara-on-the-Lake. During the Ultimate Christmas Village time, you can visit diverse wineries in the area, ranging from large estates to smaller boutique wineries. Be on the lookout for special events like Taste the Season Weekends, which give ticketholders the opportunity to sample wine and food pairings throughout the area.
Candlelight Stroll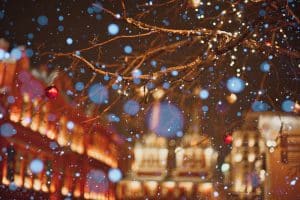 For nearly 30 years, the Candlelight Stroll has taken place in Niagara-on-the-Lake in early December. This event lights up Queen Street with thousands of candles. Take a walk and listen to carolers before a candle lighting ceremony.
Outdoor Ice Skating
Lace up some ice skates, and skate around the outdoor rink in Niagara-on-the-Lake at the Fort George National Historic Site, seven days a week. This is a favorite activity for kids and parents to do together!
Shopping
Get something special for everyone on your list in the Heritage District & Outlet Collection shops. Find apparel, antiques, everyday items, gardening tools, unique food items, leisure gifts, artwork and more, with Christmas shopping options every day of the week.
Dickensian Feast
Feast at a communal table surrounded by holiday decorations at this special Niagara-on-the-Lake meal, and listen as Scrooge performs classic Christmas carols on the piano. This unique dining event is sure to get you in the holiday spirit.
Live Music
You never know when there might be carolers in Niagara-on-the-Lake. Plus, there are also bigger live music events, like big band Christmas groups. And if you walk through the Ultimate Christmas Village in the Heritage District, you can hear Christmas music playing outside, too.
Ugly Sweater Holiday Food Tours
Love ugly sweaters and amazing food? Put on your finest ugly sweater for a 2.5-hour foodie tour around Niagara-on-the-Lake.
Ghost Walks
Legend is, Niagara-on-the-Lake is Canada's Most Haunted Town. Take a kid-friendly ghost tour exploring haunted hotels and historic sites.
This is just a small sampling of holiday Niagara Falls events you can attend in Niagara-on-the-Lake. Many events are free, but some require tickets to attend. Check out the events calendar to see what's new.
Book Your Niagara Falls Winter Vacation at Sheraton Fallsview
Seeing Niagara Falls during wintertime is so special. The falls are snowy, the light shows are awe-inspiring, there are tons of fireworks displays, and special events happen just about every day. Spending a Niagara Falls Christmas in town is a great time for the whole family, too.
If the Ultimate Christmas Village sounds like a must-see for your family, the Sheraton Fallsview Hotel is a perfect place to stay. We're just a short drive away from Niagara-on-the-Lake, and close by to so many other notable Niagara Falls attractions.
At Sheraton Fallsview Hotel, we're here to make your Niagara Falls visit a memorable one. From recommending Niagara Falls events to check out, to making sure your room is comfortable and relaxing, we've got you covered. Book a Niagara Falls Canada side stay now.
Share This