Niagara Falls Hotels » Niagara Falls Attractions » Planet Hollywood
Planet Hollywood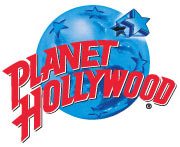 Eat, Drink and Feel Famous!
A piece of Hollywood in Niagara Falls Ontario! Planet Hollywood is one location that brings together authentic film and television memorabilia with a California inspired menu of all American favourites. Guests will enjoy the red carpet treatment as they dine in one of the themed dining rooms including the Sci-Fi or Adventure Rooms that were inspired by the Hollywood stars that founded the restaurant including Bruce Willis and Demi Moore.
The Niagara Falls Planet Hollywood Restaurant is located on the Falls Avenue Entertainment Complex, this Niagara Falls themed restaurant is the ideal dining location for all ages.