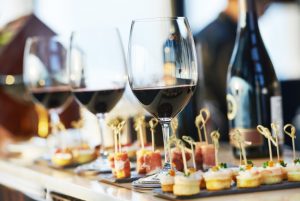 Graze the Bench is one of the Niagara Peninsula's premier wine and food events. A spring celebration of new and beloved vintages, each year's Graze the Bench features eight select wineries, that bring their favorite chefs and a bounty of food and drink to attendees over the course of the first weekend in June. Live music, unbelievable wine, delectable food — here's a look at exactly what you're going to love at 2016's Graze the Bench.
Fielding Estate Winery
Serving a NV Sparkling Rose, a 2014 Estate Bottled Riesling, and a 2013 Cabernet Franc, Fielding Estate Winery will be joined by Dobro Jesti. The food pairings will include goat cheese–filled risotto balls on marinara and a dish called Chicken Za Dilla, which will feature radicchio, romaine, and arugula and a garlic and dill aioli.
Angels Gate Winery
Two 2013 wines, a Gamay Noir and a Riesling, are this winery's features. The food accompaniment will be Jambalaya from Smokin' Buddha. Vegetarians needn't fret: A vegetarian option will also be available.
Hidden Bench Vineyard and Winery
Hidden Bench will be offering three different wines: their 2013 Hidden Bench Red, a 2013 Estate Riesling, and their 2014 Locust Lane Rose. Chef Victor Barry will provide a slider filled with slow-roasted pulled pork topped with pickled onions, crema, and cilantro. A vegetarian pairing will also be provided.
Organized Crime Winery
Organized Crime will be pouring their 2014 Break-In Pinot Noir and their 2015 Pinot Gris alongside food from El Gastronomo Vagabundo. The menu includes Chef Hynam-Smith's interpretation of the Land Down Under's famous Bull Boar Sausage, as well as a smoked beef brisket served on top of a beer waffle with cole slaw and hot sauce.
Mike Weir Winery
One of the gems of Mike Weir Winery, their 2010 Reserve Merlot, will be making an appearance at this year's Graze the Bench. They will also be pouring a Weir Canadian Made Chardonnay. To complement the wine, The Yellow Pear Food Truck will serve icewine-braised pork belly with cucumber, mint, kohlrabi, fried onion, and fennel pollen. A vegetarian option, as well as a gluten-free option, will be available, too.
Peninsula Ridge Estate Winery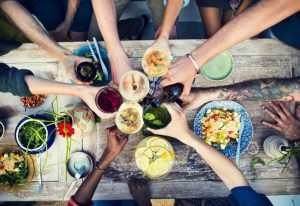 Enjoy three excellent wines from Peninsula Ridge, including their 2014 Peninsula Ridge Estates Shiraz, a 2015 Wismer Vineyard Sauvignon Blanc, and their 2015 Beal Vineyards Cabernet Rose. Food will be offered by the winery's restaurant and will include a Garden Gazpacho with pesto, a braised lamb shank with a foraged mushroom strudel, and a micro-greens salad to accompany each dish.
Thirty Bench
Thirty Bench will pour three of their finest and least fussy wines: a 2013 red, a 2014 rielsing, and a 2015 rose. The wines will be accompanied by food from Tide and Vine Oyster Company, including a fresh oyster bar and a Niagara burger topped with grilled wild shrimp.
Rosewood Estate Winery
Rosewood Estate Winery is showcase three very different wines at this year's Graze the Bench, including a 2015 Gamay Rose, a 2015 Reserve Riesling, and their 2014 Locked & Loaded, a pleasant and complex red table wine. Food accompaniment by Chefs Mike McColl and Patrick Engel will include a fried buttermilk chicken sandwich and shrimp and grits with chorizo. A vegetarian option will be available, too.
If there was ever a time to visit Niagara to take in the food and the wine, it's this June 4th and 5th for the inimitable Graze the Bench.
Share This