Are you heading to Niagara Falls this summer? Ensure that you pack well for the trip to have a great vacation. Essentials like travel documents are a must but it's as important to pack for the weather. Here are some pointers…
Summer in Niagara Falls can be relatively hot. The average temperatures range from 23 to 28 degrees Celsius. Some days, you might witness occasional showers as well. But overall, it is sunny with a slight dip in night-time temperatures. Summer is a good time to see the falls as they will gush down in all their glory and it is also the time for outdoor fun. So ensure that you pack wisely from clothes and accessories to gadgets and medicines.
Summer Clothes
Pack cottons, linen and other light-weight fabrics. Casual is the way to go. T-shirts, shirts, shorts, pants and jeans are all great options for men. Similarly, women can opt for casual tops including sleeveless and tank tops, flowy dresses, capris, shorts, a couple of long-sleeved shirts/tops, trousers and denims. Both men and women should bring along a couple of formal clothes–pants, blazers, formal top, evening dress, etc., in case you have to dress up or go for a formal occasion. Bring along swimwear if you intend to hit the pool. Don't forget to pack a sweater or a light jacket as it gets cooler at night. It's advisable to avoid colours such as black as it will absorb more heat during the daytime.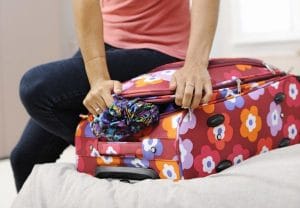 Do remember to pack carefully for children by including light clothing as well as warm layers and a couple of toys/books to keep them occupied.
Summer Accessories
It's recommended to carry the right kind of accessories. Footwear is very important so carry comfortable walking/hiking shoes and flip-flops or sandals. If they are water-resistant, it's even better. Women can carry a few pieces of jewellery to highlight their wardrobe. Carry backpacks, sling bags or other comfortable carry bags when you explore the outdoors. Hats and caps are useful in blocking the rays of the sun while a good pair of sunglasses protects your eyes from the glaring sunlight. An umbrella is very handy for both the sun and the rain. A camera, preferably one that is water resistant, is recommended to capture all the magic moments in the mist of Niagara Falls.
You are now ready to enjoy your summer vacation in Niagara Falls!
Stay at the World Class, 4-Star Marriott on the Falls Hotel. Book directly with the hotel for Best Rates and valuable add-ons that can't be found elsewhere.
Share This