Spring in Niagara Falls brings warmer temperatures, flowers in full bloom and the re-opening of popular attractions and tours. There are less crowds when you're visiting Niagara Falls in spring compared to summer, so you can explore all Niagara Falls has to offer without getting lost among tons of tourists.
If you're looking for things to do in Niagara Falls Canada in spring, here are five fun events (including a Niagara Falls restaurants tour) that make Niagara Falls a top destination to visit in the spring season.
1. Niagara Folk Arts Festival
The Niagara Folk Arts Festival, from May 2 to May 26 in 2019, is one of the coolest spring things to do in Niagara Falls Canada because you can check out an abundance of live art all in one place. It's one of the oldest heritage festivals in Canada, featuring dance, arts, food, kids' activities, exhibitions and entertainment.
This year's festival takes place at the Niagara Folk Arts Multicultural Centre, which is celebrating its 51st anniversary. See gorgeous traditional costumes, enjoy tasty Canadian food, and see Niagara Falls cultural spirit in action everywhere you turn. You can also find an arts souvenir to take home from one of the artist booths.
2. Niagara Falls Scenic Tour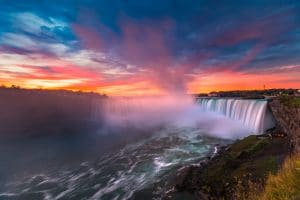 Check out a ton of what Niagara Falls has to offer in a 6-hour-long Niagara Falls Scenic Tour, hosted by Magnificent Tours. The Scenic Tour is one of the most popular things to do near Niagara Falls and kicks off in spring. It offers nearly half-off ticket prices for kids and takes visitors to six iconic Niagara Falls stops that are great spots for tourists to check out.
The tour starts with a Hornblower Niagara Cruises boat tour of Niagara Falls, where attendees can get up close to the Falls – and even feel the mist. Then visitors go through the Journey Behind the Falls, a tunnel behind the Canadian Horseshoe Falls that provides a unique vantage point of Niagara Falls.
The tour heads to the White Water Walk, a boardwalk along the white waters of the Niagara River rapids. Then see Niagara's Fury, a technology-fuelled Niagara Falls experience that gives a one-of-a-kind view of Niagara Falls. The tour then heads to Souvenir City, featuring gifts, live artisans at work and fudge made on site. The tour finishes at the Floral Clock, a must-see Niagara Falls spring attraction made of 16,000 carpet bedding plants.
3. Niagara Falls Comic Con
Love comic book culture? Head to one of the world's coolest comic book conventions, the Niagara Falls Comic Con at Scotiabank Convention Center June 7 to 9. The theme for 2019 is Falls Horror Fest, and thousands of comic book vendors and comic book celebrities will be on site. This year's event also includes a "Legends of Wrestling" component, with famous pro wrestling faces like Road Warrior Animal and Paul Orndorff making an appearance.
Check out comic book panels, meet artists and writers, and find your new favourite comic at one of the booths. Dress up as a character and meet new friends who share your passion. When you leave the event, there's plenty more to explore around Niagara Falls.
4. Niagara Falls Elvis Festival
Elvis lovers from around the globe travel to Niagara Falls in spring for an Elvis competition unlike any other. Set in the Vegas-style Greg Frewin Theatre, the Niagara Falls Elvis Festival from April 26 to April 28 features headliner shows, competitions, meals and after parties and dances where anyone can shake it like Elvis.
The competition includes preliminary, semi-finals and finals bouts. Vote for your favourite for the People's Choice Award, and go back in time with every Elvis tribute performance.
5. A Taste of Niagara on the Lake
Niagara Falls is home to magnificent natural sights. It's also a foodie destination, since Niagara Falls restaurants often use fresh locally grown ingredients and serve up tasty meals with Niagara Falls wine and beer brewed in the region. If you love food and are planning visiting Niagara Falls, spring is the time to go, since it features A Taste of Niagara on the Lake, an event for food lovers in Niagara Falls.
The progressive dinner event enables visitors to taste dishes from some of the best restaurants Niagara Falls has to offer. The event starts at the Niagara on the Lake Community Centre, and guests are then transported to five notable Niagara Falls restaurants for gourmet food and local wine pairings. Remaining dates for 2019 are March 22 to 24 and April 5 to 7.
Book at Stay at Marriott on the Falls Hotel for Things to Do in Niagara Falls Canada
Have a comfortable stay when visiting Niagara Falls by booking a room at the Marriott on the Falls. We have spectacular views, serene rooms, relaxing amenities and friendly service. Contact us for help planning things to do in Niagara Falls Canada for you and your family.
Share This