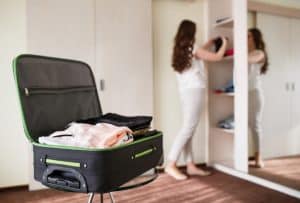 The scenery of Niagara Falls is so utterly gorgeous that it often overshadows another remarkable aspect of our region: the weather. Compared to neighboring regions in Canada and the United States, Niagara boasts mild temperatures year-round, meaning visitors don't need to worry about oppressive heat in the summer or bone-biting cold in the winter. Though the weather in Niagara Falls isn't as unchanging as the tropics, it is still a relatively comfortable place to visit all year long.
Still, one of the most common questions we are asked is, "But what should I wear?" Hopefully, this post answers all your packing questions, so you can stay cool (or warm) no matter when you journey to see the falls.
Winter Packing Tips
Make no mistake: Niagara Falls can get chilly. In the middle of winter, temperatures hover around 32 degrees Fahrenheit (0 degrees Celsius) during the day and plummet to about 15.4 degrees Fahrenheit (-9 degrees Celsius) after the sun sets. From mid-December to early March, it isn't uncommon for snow to cover the ground; in fact, Niagara Falls enjoys a full 50 glittering days of snowfall every year, totaling about 70 inches (180 centimeters). Some years, the falls partially freeze, creating a natural ice sculpture for all to see. While this is certainly colder than California, it is much more manageable than nearby areas in New York and Ontario, which experience much worse winter conditions for much longer.
If you are planning a wintertime make sure you have the right Niagara Falls information if you are planning a trip in Winter. Though the area enjoys a much lower tourism rate in the cold months, the city and surrounding landscape is more magical covered in a layer of snow. Still, you do need to keep the temperatures in mind. You definitely need to pack warm clothing, including coats, hats, gloves, scarves, and waterproof boots. It is important that you cover your skin as much as possible from December to March if you want to stay safe during your winter trip to the falls.
Spring Packing Tips
Spring comes hard and fast in Niagara Falls, with temperatures rising tumultuously as the birds and bees return for the warm seasons ahead. Springtime temperatures vary between about 41 and 66 degrees Fahrenheit (5 and 19 degrees Celsius), and for most of March and April, every day can bring unexpected weather. One day could be snowy and frigid, and the next could be delightfully bright and warm. Yet, despite this unpredictability, spring is among the most popular times of year for tourism to Niagara Falls.
The most important consideration for packing for Niagara spring is comfort. Because not even experienced meteorologists know for certain what the skies will bring during springtime, you should bring clothing suitable to a variety of temperatures. Outfits should be composed of light layers, such as a T-shirt, a cardigan, and a heavy, wind- and waterproof coat, so you can take off and add clothing as necessary.
Summer Packing Tips
Sunny summertime is when Niagara weather truly shines. Daytime temperatures rarely exceed 80 degrees Fahrenheit (27 degrees Celsius), and after the sun sets, temperatures barely drop to around 46 degrees Fahrenheit (8 degrees Celsius). Most days are bright and warm, but there are a few cloudy and rainy days, as well as afternoon thunderstorms — providing the perfect opportunity to dip inside for Niagara's covered attractions, like an indoor waterpark or museum.
Casual summer clothing made of comfortable, lightweight fabrics like cotton and linen are ideal for Niagara's summers. For most of the day, you will be comfortable in short-sleeve or sleeveless tops, but it is wise to carry along a layer, like a cardigan or light coat, in case rain does fall or you are out past nightfall — which is a common occurrence when so much happens in Niagara after dark during the warm, high tourism season.
Fall Packing Tips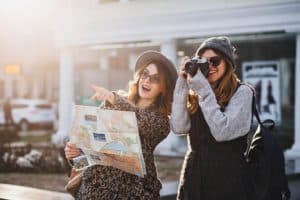 As summer dies down, so does tourism in Niagara Falls — which is a shame because fall is easily Niagara's most beautiful season. Temperatures remain warm, around 75 degrees Fahrenheit (24 degrees Celsius) during the day and 45 degrees Fahrenheit (7 degrees Celsius) at night. Plus, autumn is the driest time of year for Niagara, lacking the snowstorms of winter and the fog and rain of spring and summer. This weather coupled with the gorgeous foliage and quiet attractions make fall the best season for Niagara travel.
Again, it is wise to pack layered outfits for an autumn Niagara trip. While the mild weather is relatively predictable, the diversity of activities around Niagara Falls typically necessitates different amounts of coverage. Though it might not rain, you should still bring along some waterproof options if you want to journey close to the falls, by boat or by cave.
No matter the season, you should always bring along a camera and plenty of storage space for souvenirs and gifts. Niagara Falls is one of the best travel destinations in the world, and while you should be comfortable in your clothing, you should also be confident that you are bringing back memories for a lifetime.
Share This