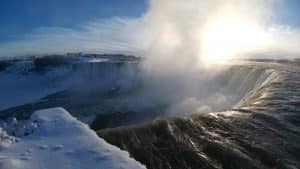 Although for many people around the world Canada may be seen as America's quieter neighbor to the north, this large country boasts a wide and fascinating variety of Niagara Falls restaurants, landscapes, peoples, cultures, wildlife, and attractions. As such, it has something to suit every taste.
First, some basic facts about this majestic country. Canada is huge and covers 3.85 million square miles and is home to more than 36 million people as of 2016. Just like other countries of its size, Canada is composed of many different landscapes, cultures, and wildlife across its 13 provinces and this makes for a wonderfully harmonious and beautiful country.
One of its most exciting provinces has to be Ontario. Home to the iconic, world-renowned Niagara Falls, Ontario is one of the country's most populous provinces and is the perfect spot to visit year round. Ontario is one of Canada's more populous provinces and is home to the world-famous Niagara Falls. Ahead of your next trip to Niagara Falls these are some fun facts about Ontario that will help you learn more about the place you're about to fall in love with.
 General Province Facts
The second-largest province in Canada, Ontario covers over 415,000 square miles (one million square kilometers). This makes it larger than France and Spain combined. A big part of this land mass actually features lakes, so if you're a water enthusiast you'll be in seventh heaven in Ontario. In fact, the state boasts around a quarter of a million lakes in total, which makes up approximately 20 percent of the world's fresh water stores.
Throughout Ontario, you're likely to spot the province's official flag in many locations, too. This flag is known as the Red Ensign. It features the Union Jack, which represents the region's ties to the Commonwealth of Great Britain; and the Coat-of-Arms of Ontario, which consists of a green shield with three golden maple leaves, topped by the Banner of St. George (a red cross on a silver background), plus a bear, a moose, and a dear.
Also around Ontario, you're likely to see the state's official flower, the trillium, depicted on many items. This delicate, white, three-petaled flower grows in abundance in the wild woodlands of Ontario, mainly in the early spring months.
If jewelry is more your thing, you might want to buy a long-lasting souvenir to remember your time in the province. Amethyst, the popular, rich purple, semi-precious stone found in many rings, necklaces, earrings, and bracelets is the official gem of Ontario. In the northwestern part of the province large deposits are found, so you won't have to look far to find a beautiful accessory made from the stone as you travel.
Toronto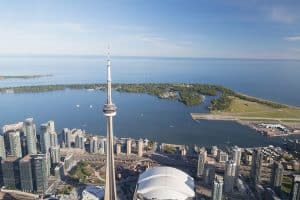 No visit to Ontario is complete without spending time in its capital, Toronto. Also the largest city in the province, Toronto has over 2.8 million residents and is considered the most linguistically diverse city in Canada. It is believed more than 100 different languages are spoken in Toronto and, in fact, according to the 2016 Census, 44 percent of residents speak a first language that is neither English nor French.
Apart from boasting such a mixed bag of cultures, Toronto is also the place to find a wide variety of restaurants — more than 7,500. If you're a foodie, you'll be in your element in the city, trying out cuisine after cuisine. Around Toronto you'll find restaurants specializing in everything from Caribbean, Chinese, Creole and Indian, through to Mexican, Middle Eastern, Malaysian, Thai, Polish, Korean, Hungarian, Spanish, French, Italian, Japanese, and more.
Something else Toronto is pleased to highlight is its commitment to film production. In North America it is the third most popular city for screen-based production work, behind Los Angeles and New York City. (The local industry employs more than 25,000 people.) It probably won't surprise you to learn, then, that many famous actors were born in the city. This list includes Mike Myers, Christopher Plummer, Eric McCormack, Corey Haim, Stephen Amell, Robbie Amell, Will Arnett, Rick Moranis, Alison Pill, and Patrick J. Adams.
Camp X
Every country has its secrets and Canada is no exception. During World War II, Canada operated a spy school near the town of Whitby, Ontario. Here, intrepid young men were trained to spy on the enemies of the Allies.  Two famous men supposedly made up the class roster. These were Ian Fleming, creator of the James Bond series of books, and Roald Dahl, author of Charlie and the Chocolate Factory.
Camp X was used after the war as a communication interception station but those operations ceased in 1969. Today, the location is called Intrepid Park.
Sports
Ontario has a long history of sports and legions of residents who are fanatical about them. Baseball lovers will be chuffed to learn that the legendary Babe Ruth hit his first home run while playing for a minor league baseball team in Ontario in 1914. Switch sports to hockey, and you'll learn that the NHL's all-time leading scorer, Wayne Gretzky, was born in Brantford, Ontario in 1961. The Great One even has a Tim Horton's coffee named after him called The Gretzky, which references his jersey number, 99. This mysterious concoction consists of coffee with nine sugars and nine creams!
And, sadly, while the Toronto Maple Leafs haven't won the Stanley Cup since 1967, residents of Ontario still adore their team. Fans don't let the long championship drought get to them, as games sell out regularly. The Ottawa Senators also have a huge following, making Ontario a hockey hotspot.
Niagara Falls is obviously one of Ontario's main attractions but there is much more to this province than meets the eye. On your next visit, make sure you try to get a feel for some of the region's other splendors.