The first day of spring is only a week away, and as the weather gets warmer and the flowers start to bloom a visit to Niagara Falls is the perfect way to celebrate the season. Here are some of the best activities to check out this spring in Niagara Falls:
Embark on a Hornblower Niagara Cruise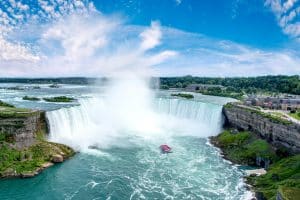 Hornblower Niagara Cruises is kicking off its 2018 season on April 7th (weather permitting), offering daily boat voyages to the American, Bridal Veil, and Canadian Horseshoe Falls. Hornblower is one of Niagara's most iconic and popular attractions and is an exciting way for people of all ages to experience the beauty and power of Niagara Falls.
The Voyage to the Falls Boat Tour is the most popular Hornblower cruise, however you can also embark on a Voyage to the Falls Evening Boat Tour, a night-time Falls Illumination Cruise, and a spectacular Falls Fireworks Cruise.
Explore Niagara's Natural Areas
Niagara is home to beautiful parklands, sprawling gardens, and a number of spectacular natural areas, and spring is one of the most beautiful times to take it all in. Queen Victoria Park, located right across the street from the Horseshoe Falls, comes to life in spring and is home to over 500,000 blooming daffodils and beautiful flower displays.
And just down the Niagara Parkway is the Butterfly Conservatory, located on the grounds of the Niagara Parks Botanical Gardens. Here you can walk through a beautiful indoor paradise that houses lush greenery and over 2,000 colourful and free flying butterflies.
Walk or Hike on the Region's Trails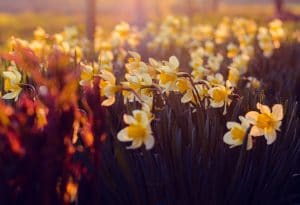 Niagara's unique landscape makes for great walking and hiking, and when spring brings warmer weather and sunshine there are a number of amazing trails around the region that are worth checking out. Canada's famous Bruce Trail – the country's oldest and longest marked hiking trail – begins in Queenston and travels along the Niagara Escarpment with many side trail that make for great day hikes and walks.
The Niagara Glen, located deep in the Niagara Gorge, is also a beautiful walking and hiking area. The Glen features 4km of paths through Carolinian Forest and lookout points with amazing views of the mighty Niagara Whirlpool and Niagara River.
Experience Niagara's World-Famous Wine
The Niagara Region is Canada's largest wine growing region and a visit to Niagara-on-the-Lake this spring will connect you with beautiful sights and memorable winery experiences. You can embark on a guided wine tour with Magnificent Tours, which will take you to top Niagara wineries like Inniskillin, Reif Estate, and Konzelmann Estate, or explore the wineries on your own, taking in the sight of stunning vineyards while sipping the best VQA wine that the region has to offer.
Share This