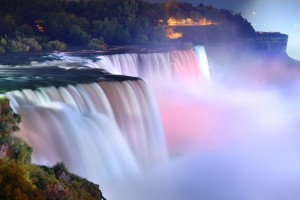 Whether you travel to Niagara as a member of a 20-person bachelorette party or in celebration of your 25th wedding anniversary, there are plenty of ways to enjoy the nighttime hours. From world-class musical acts to gambling and theater, Niagara boasts a nightlife that's robust, varied, and plenty of fun. Some of it is even one-of-a-kind. If you're looking to stay up a little bit late in Niagara, here are four ways to enjoy the night that are as unique as the place.
Falls Illumination Cruise
For a romantic, nighttime exploration of the waterfalls, the Falls Illumination Cruise can't be beat. Cruise alongside the illuminated falls beneath countless stars from 9:45 p.m. until roughly 10:30 p.m. Even if you've taken in the falls via the Maid of the Mist and the Journey Behind the Falls, this cruise will give you an experience of Niagara Falls that will make this natural wonder seem brand-new again.
With platforms that offer tiered viewing and a dry area with large windows should anyone in your party fret about getting wet, the Falls Illumination Cruise is a pleasure for tourists of all ages.
Late-Night Drinks in Full View of the Falls
Niagara has a wide array of nightclubs for anyone looking to dance, dine, or drink the night away, but R5 offers a view that can only be had here. Contemporary and chic, R5 is an elegant and welcoming space that can provide the perfect atmosphere for drinking, dining, and conversation when you're looking to stay up late and have a good time while doing it.
Designed to showcase its location near the falls, you can gaze out at the majestic and illuminated waterfalls every night, while enjoying an expertly crafted cocktail. Sit with a loved one by the fire, or belly up to the bar. Whatever you choose at R5 will feel just right, and it will last long after the sun has gone down.
People Watch at Clifton Hill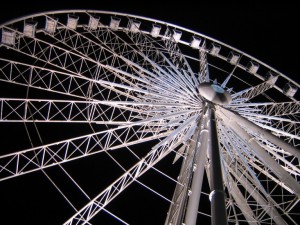 When it comes to late-night people watching, New York City is hard to beat, but thanks to the wide variety of visitors and goings-on in Niagara, Clifton Hill is pretty entertaining, too. Niagara Falls' most famous street, Clifton Hill comes by its nickname, "Street of Fun," pretty honestly. From moon-eyed lovers to teenagers being allowed a long leash, Clifton Hill is a people watching experience all its own, and you can only have it in Niagara Falls.
Niagara Skywheel
There are few experiences as exhilarating as journeying upwards of 175 feet to gaze upon the glitter and glam of downtown Niagara Falls, but you can do just that on the largest observation wheel in all of Canada.
The Niagara Skywheel offers climate-controlled gondolas so that, regardless of the weather, you and your crew can experience the waterfalls and the city from up above. While the trip is just eight to 12 minutes long, the experience of seeing the city and the lit-up waterfalls at midnight is something you'll remember the rest of your life.
So, stay up late. Whether you want to people watch or get close to the water, the city offers a wealth of nighttime fun that can only be had in Niagara.
Share This