It's hard to pinpoint the "best time to visit Niagara Falls," because every season presents unique ways to experience this dazzling world wonder. While being near the water at Niagara Falls sounds like a go-to spring or summer activity, the Journey Behind the Falls tour is beautiful in cooler Niagara Falls weather, too, when you can see Niagara Falls from spectacular vantage points.
The Journey Behind the Falls tour is located at Horseshoe Falls, which is the largest section of Niagara Falls with about 90 percent of Niagara River flowing over this side. Here's what to expect from the Journey Behind the Falls Niagara Falls in December and other winter months, and what a visit to the city of Niagara Falls is like during winter:
What the Journey Behind the Falls Tour Includes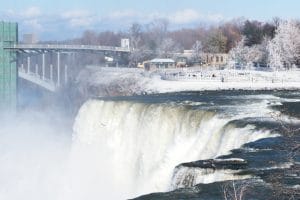 Journey Behind the Falls is a year-round Niagara Falls tour that takes visitors to observation decks below and behind the falls. On this self-guided tour, visitors go down 150 feet by elevator and are met with a short tunnel that provides access to two outdoor observation areas and two viewing spots right behind the falls.
In the Niagara Falls winter, icy conditions prevent the lower observation deck from being open due to safety reasons, but you can still see the falls from other observation points. The upside to this closure means winter rates to the Journey Behind the Falls tour are reduced.
Another benefit of doing this tour of Niagara Falls in December or another winter month is that the tours are far less crowded compared to peak summer season. In the summer, you may find yourself being designated a time to come back because of wait times, but you shouldn't have that issue in colder Niagara Falls weather.
Any time of year on the Journey Behind the Falls tour, you can see Niagara Falls from viewing portals that are cut into the bedrock behind the falls, called the Cataract Portal and the Great Falls Portal. Throughout the tour, there's lots of history and background you can read about how the tunnels you'll navigate were dug more than 130 years ago. The tour takes about 45 minutes, and it's advised to bring a waterproof camera and waterproof bags or purses for your belongings just in case you're hit with mist.
You could take the Journey Behind the Falls tour every time you visit Niagara Falls, and it will always be amazing. Feel the mist on your face and the thunderous power of Niagara Falls roar around you as you're surrounded by this awesome sight.
Why the Journey Behind the Falls Tour Is Unique in Winter
Niagara Falls winter is so cool (literally) to experience, because Niagara Falls is typically covered in sheets of snow and ice come wintertime. To the outside observer, it looks so solid and thick that it appears Niagara Falls has frozen. Really, the immense volume of the falls and the installation of ice booms made of steel on the river mean it never stops flowing, so it's neat to see them in a wintry yet working state.
The Journey Behind the Falls tour is a great activity for the whole family to enjoy together. It's completely safe for kids, but be sure to wear comfortable walking shoes so you can move through the route easily. There are Niagara Parks Commission workers at the site to answer any questions and to make sure tourists are protected as they navigate the tour.
Other Reasons to Plan a Niagara Falls Winter Trip
Besides taking a unique Journey Behind the Falls tour in Niagara Falls winter, here are some other reasons why cold Niagara Falls weather makes winter a great time to visit Niagara Falls:
Frozen nature: See Niagara Falls trees and plants covered in snow and ice as they cling to rocky cliff edges. Their hardiness even in cold winter months is something to admire.
Sunshine abounds: Even when it's cold, Niagara Falls still has plenty of sunshine. Bask in a sunny glow as you play in Niagara Falls snow.
Less crowds: Because summer is peak season, everything you do in Niagara Falls in winter will be less crowded. Spread out, take your time, and explore the city of Niagara Falls at a relaxed and leisurely pace.
Be sure to pack lots of layers so you stay warm wherever you go. A warm coat, hat, gloves and scarf are great to wear, and you can always peel them off when you stop at an indoors spot.
Book a Trip to the City of Niagara Falls
Niagara Falls is a top destination for travelers from around the world. It's awe-inspiring to see Niagara Falls up-close, and the Journey Behind the Falls tour is a great way to do so.
Make your trip to Niagara Falls a memorable one by booking your stay at Marriott on the Falls. Our friendly concierge team can help you book your Journey Behind the Falls tour and help you find other fun ways to enjoy Niagara Falls in December or any other time of year. Find more things to do in Niagara Falls here.
Share This