Niagara Falls is home to natural wonders, luxury hotels, spacious parklands, and a collection of Casinos. How many Casinos? Well, the answer is….
There are Three Casinos in Niagara Falls, two in Ontario, Canada and one in New York, USA, consisting of over 440,000 square feet of gaming space.
Rest assured that the gaming floor isn't made up of unused space; quite the contrary– There are over 8000 slot machines, 250 gaming tables, 35 poker tables and 3 sportsbooks.
All three Casinos, as shown in our above image are within close, walking proximity to each other.
Each Casino has their own unique traits, gaming floors, and gambling options.
Niagara Falls Canada Casinos
Casino Niagara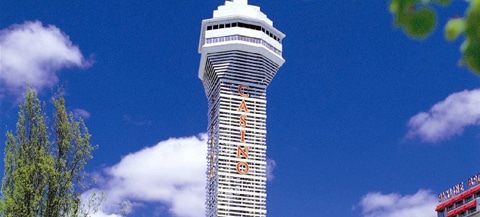 Casino Niagara is the oldest of the three Casinos, originally opened in 1996. The Casino is located near the Clifton Hill District of Niagara, and is located in a building. Highlights include:
1300+ Slot Machines
40+ Tables
Poker Room
Variety of Tournaments, including Poker, Slot & Blackjack.
Casino Niagara features access to 12 restaurants, including four distinct restaurants within the Casino gaming floor. The property also has a 2nd floor stage that features live music every Friday and Saturday night throughout the year.
Casino Niagara – 5705 Falls Avenue, Niagara Falls, ON L2E 6T3
Fallsview Casino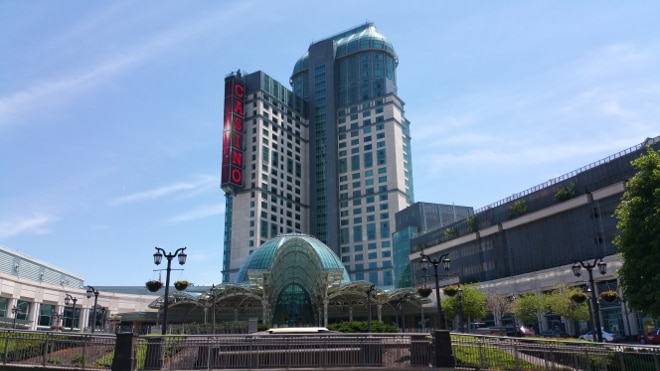 After the success of the Casino Niagara property, the Fallsview Casino was opened in 2004. Highlights include:
200,000 square feet gaming space
3000+ slot machines
100+ gaming tables
Large Poker Room that includes WSOP events
The Casino property, known as the Fallsview Casino Resort, features a number of on-site amenities including nightclubs, two concert venues, and a shopping mall including over 30 retail shops and 15 restaurants. The Fallsview Casino has the most modern, upscale feel amongst all Casino's in the Niagara Area and is the perfect location for a stylish night on the town.
Fallsview Casino, 6380 Fallsview Boulevard, Niagara Falls, ON L2G 7X5
Niagara Falls American Casinos
Seneca Niagara Casino

Seneca Niagara opened on New Year's Eve 2002 and is located on the American side of the border, roughly an easy five-minute walk from the Peace Bridge US/Canadian border crossing.
This is the only Niagara area Casino that offers a smoking section. The Casino has a large gaming floor, a non-smoking section, high ceilings, and comped/free alcohol for those playing slots or table games. The large Casino features:
2500+ Slot Machines
100+ Gaming Tables
Two Large Entertainment/Concert Venues
Poker Room
Free Parking with Play
Those wishing to visit the Casino from Canada can simply walk across the Peace Bridge border, provided that they have a valid passport.
Seneca Niagara Casino, 310 4th St, Niagara Falls, NY 14303, United States
Within Walking Distance to all Three Casinos
The Marriott on the Falls is within close walking proximity of all three hotels, including just a short three-minute walk to the Fallsview Casino. Learn more about our hotel, nearby Casinos and valuable add-on packages that can include Casino Free Play, breakfast buffets and more. For more info visit:
Marriott on the Falls Niagara Falls Hotel Packages
Share This