Niagara Falls sits on one of the busiest border crossing points between Canada and the United States. Between tourists coming to see the falls and the numerous nearby attractions, and the locals hopping between the Ontario and New York portions of the larger Niagara Falls area, there's always a lot of movement between the two countries.
At any border crossing, adults typically need at minimum a passport, and valid identification such as a birth certificate can help the process. Regular Canada–US border-hoppers can apply for a NEXUS card or an equivalent program for quick crossing. Either way, make sure you and everyone travelling with you has their paperwork sorted. Consult this official government page to view the type of ID required to cross into either Canada or the United States.
Border Crossing: Rainbow Bridge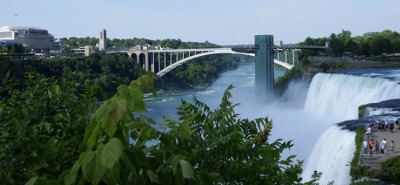 One of the most well known border crossing bridges is the Rainbow Bridge, located near Clifton Hill. This bridge provides an interesting scenic vantage point into Niagara Falls and across Niagara Gorge, connecting the two countries. Cars, bicycles and pedestrians can cross here, and it's the most convenient means for non-motorised traffic to get across the gorge, especially for specifically travelling to and from Niagara Falls itself.
Border Crossing: Lewiston-Queenston Bridge
The second major thoroughfare is the Lewiston–Queenston Bridge (or Queenston–Lewiston Bridge, depending what side of the border you're from). This one's further north, about halfway between Niagara Falls and Niagara-on-the-Lake. It's one of the busiest border crossing points between the two nations, mostly because it's the best option in the area for trucks and freight traffic (which aren't allowed over Rainbow Bridge). It's convenient if you end up close by, but heavier traffic means it shouldn't be a first option when other bridges and access points are within reach.
If you're a NEXUS card holder, border crossing is always a little easier. But an added perk is that there's one more way across the river, for NEXUS card holders only. The Whirlpool Rapids Bridge is on the northern end of Niagara Falls, a short way upstream of the titular Niagara Whirlpool. It accommodates car traffic only and every driver and passenger must hard a valid NEXUS card to proceed.
Border Crossing: Peace Bridge
The furthest bridge from Niagara Falls, the Peace Bridge is located roughly 25 minutes from Niagara, and is in-between Fort Erie, Ontario and Buffalo, New York.
Plan ahead to head for the bridge that gives you the easiest access across and make sure you're ready to cross the border with the right credentials, and it'll make international travel all the easier.
For additional border crossing information and wait times visit our: Canadian/US Border Crossing Information and Wait Times
Share This