Niagara Falls Hotels » Niagara Falls Attractions » Rainforest Cafe
Rainforest Cafe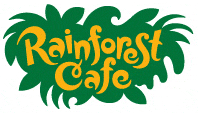 An Adventure in Casual Dining...
If you are looking for a themed restaurant in Niagara Falls that will captivate the imagination of the young and young at heart the Rainforest Cafe Niagara Falls is the perfect choice. You will enter a new world as you step into the deep, exotic Rainforest Cafe. Cascading waterfalls, animatronic Gorillas, Snakes, Elephants and a 6000 gallon live Shark exhibit await you. Enter through the Clifton Hill & Falls Avenue entrance under the 80-foot volcano and experience the rainforest as it comes to life at this unique and entertaining themed restaurant.
The Rainforest Cafe offers a great family-oriented menu including salads, pastas, signature sandwiches and a wide selection of exotic desserts. The Mushroom bar is great for intimate meetings or large receptions. The gift shop offers an extensive line of private label Rainforest Cafe clothing, featuring Niagara Falls signature items.
Find out more about this Family Restaurant In Niagara Falls »
Reservations
The Rainforest Cafe does not accept reservations. For more information including expected wait times please call 905-374-2233.
For groups of 10 or more please contact the sales department sales@niagarafallshotels.com.