Niagara Falls Hotels » Skyline Inn Hotel » Skyline Inn Dining
Skyline Inn Dining
Perkins Family Restaurant and Bakery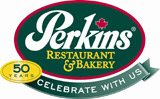 Perkins Restaurant and Bakery is one of Niagara's favourite family eateries offering all day breakfast. Located on the Falls Avenue Entertainment Complex directly beside the Skyline Inn, Perkins is open for breakfast, lunch and dinner. Menu items include pancakes, waffles, burgers, salads and more with a special KidsPerks Meals, specifically designed for Perkins youngest guests. Perkins also offers a bakery counter that offers freshly baked pies, cookies, and other desserts that are ideal for a snack after a day of sightseeing in Niagara Falls.
Guests of the Skyline Inn receive 10% off purchases at Perkins including Bakery items.
Rainbow Room by Massimo Capra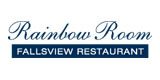 One of the finest dining experiences in Niagara Falls, The Rainbow Room by Massimo Capra is not to be missed. Located on the 10th floor of the Crowne Plaza Niagara Falls – Fallsview, The Rainbow Room provides an exceptional view of the majestic Falls and upper river, and a first class menu. The Restaurant carries rich tradition of excellence more than 80 years in the making, and features the culinary insight and passion of renowned Chef, Author and TV Host Massimo Capra. Best known as the host of Food Network Canada's "Restaurant Makeover", Capra created the fresh market menu using the best ingredients Niagara has to offer for inspiration, he then added a few signature dishes that just happen to be among his favourite recipes. To complete the experience, Tony Aspler Canada's foremost authority on wine was enlisted to create a wine list offering pairings for the Rainbow Room's most popular dishes. Fine dining, fine wine, and a picture perfect view make for the complete Niagara experience.
Open for Breakfast, Lunch or Dinner
Children's menu available
Dining on Falls Avenue
The Skyline Inn is steps from great themed dining at Rainforest Cafe, Hard Rock Cafe, and Planet Hollywood, all located on the Falls Avenue site.