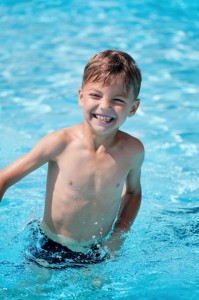 With the summer travel season nearly upon us, vacationers everywhere will soon be on the hunt for world-class water fun. When considering your summertime travel options, you can't go wrong with Niagara Falls. The area's fun-filled water parks make it the perfect vacation destination for families looking to beat the heat.
Fallsview Indoor Waterpark
Niagara Falls' premiere indoor water park, Fallsview is home to 16 exciting waterslides and a number of other kid-friendly attractions. The park's extra-wide Canadian Plunge slide enables guests to ride through a slippery centrifuge in multi-person rafts. If your family wants a bit of friendly competition, head over to Fallsview's two-tiered Extreme Racing Slide and see who can reach the bottom first. Visitors on the hunt for a long-lasting waterslide experience won't want to miss the extra-long, twist-laden Toob Tower slide.
Kids can cool off at Fallsview's Beach House play area, where they'll find a fun assortment of child-safe slides and other water-themed playground equipment. Guests can experience the beach at any time of year by visiting the Fallsview Indoor Beach. Furthermore, adults can unwind after a long day of water park fun at the Horseshoe Hot Springs, a collection of artificial hot springs designed to leave visitors feeling relaxed and refreshed. The waterpark also features direct indoor connections to the Sheraton on the Falls, Niagara Falls Crowne Plaza Hotel and the Skyline Inn. If you are staying in either of those hotels, you may consider buying a Waterpark Getaway Package for the family.
Americana Indoor Water Park
An indoor water park with a distinctly outdoor atmosphere, Americana boasts 25,000 square feet of water slides, activity pools and other staples of family fun. Unlike Niagara Falls' other indoor water parks, Americana features a fully-retractable roof, making it the ideal water park destination for both summer and winter travelers. In addition to the park's thrilling waterslides, Americana is home to a multi-speed beach-themed wave pool.
Parents with older children can enjoy a revitalizing day in Americana's attached spa while their kids hit the water park. After experiencing one of the spa's tension-breaking massages or soothing seaweed wraps, you'll return to the park feeling more relaxed than ever.
When visiting Niagara Falls, you don't have to go far to find first-class summer fun. If a long day of exploring the Falls has you beat, just grab your swimsuit and head to one of the area's affordable indoor water parks.
Share This