Interesting facts about Niagara Falls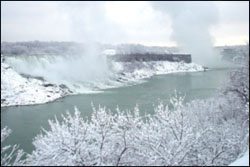 The Canadian "Horseshoe" Falls is 167 feet high and 2600 feet wide. Every second 600,000 U.S. gallons go over the Falls.
The American Falls moves 150,000 U.S. Gallons per second - falling 70 feet along its 1060 foot long brink.
In extremely cold winters, falling water and mist can ice up to fifty feet to form the "ice bridge". Until 1912, visitors were allowed to actually walk out on the ice bridge but on February 4th, that year, the ice bridge collapsed and three tourists died.
The flow of water was halted over both falls on March 30th 1848 due to an ice jam in the upper river and the American Falls was stopped completely for several months in 1969 to examine the large amount of loose rock at its base.
The movies Niagara and Superman were filmed in part at the Falls.
A 63 year old female schoolteacher was the first person to go over the Falls in a barrel and survive. In the past ten years, Two daredevils have lost their lives trying to do the
Niagara Falls Hotel Guide