The Falls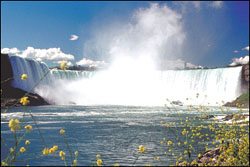 Begin your sightseeing adventure at the Falls. Leave yourself at least a half-day to wonder around the brink and the magnificent parklands, gardens and viewing platforms that surround the horseshoe.
There's magic in the mist that will lure and relax you. You'll be inspired by the overwhelming enormity of the falls, the power and energy of the water flow as it cascades downward, and you'll be entranced by the sheer beauty of nature.
At night, the Falls are bathed in spectacular lights in a shimmering rainbow of colour. You'll want to spend some time in the evening at the Falls, or choose one of the two Falls Avenue, fine dining restaurants that offer spectacular Falls views both day and night.
Niagara Falls Hotel Guide