Niagara Fallsview Weddings
Niagara Falls has been the honeymoon capital of the world since 1804 when Napoleon's brother took his wife to experience the beauty of the Niagara Falls. This tradition continues today with the wide variety of wedding options offering in Niagara Falls. The Niagara Fallsview Weddings is located in Niagara Falls Canada at the Konica Minolta Tower. Experience a beautiful wedding ceremony and luxurious accommodations courtesy of Niagara Fallsview Weddings.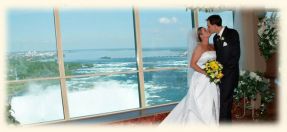 Amenities
Complementary Services are offered from this group. They include:
Personalized Wedding Consultant to assist you with all of your needs.
Concierge Services including tour planning, restaurant reservations, etc.
Appointment Scheduling for hair, massage, golf, etc.
Personal choice of Music for your wedding ceremony.
Assistance in obtaining your marriage license.
Niagara Fallsview Weddings will reserve discount hotel rooms as needed.
The Niagara Fallsview Weddings provide a wide variety of packages for the perfect wedding ceremony. The packages start at $649 CDN, plus applicable taxes.
Accommodations
Ramada Plaza Hotel – Fallsview
The rooms available are luxuriously appointed room with wall-to-wall, floor-to-ceiling windows overlooking the Niagara Skyline. It has a king size bed, fridge, microwave, coffee maker, 25 inch TV, iron, hairdryer, & Internet access.
Dining
The Pinnacle Restaurant
Located in the Minolta Tower is the newly renovated Pinnacle Restaurant, offering fine dining and a stunning view.
Address
6732 Fallsview Boulevard
Niagara Falls, Ontario L2G 3W6
Contact