Serenity Spa by the Falls
Serenity Spa by the Falls is located in the Marriott Niagara Falls Fallsview and Spa. Immerse into a rejuvenating atmosphere when you journey to Niagara Falls. Relax your body, refresh your mind and revive your spirit for the ultimate in relaxation at this spa. Serenity Spa by the Falls has created three new treatments incorporating the unique detoxifying properties of cocoa.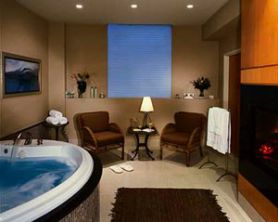 Overview
The Serenity Spa by the Falls offers a relaxing atmosphere while providing guests with the best spa treatment. A wide variety of spa treatments are available at this Niagara Falls spa. A lot of packages are offered through the hotel to enjoy multiple spa treatments.
The spa is good for any time of day, whether you have just finished a long day of attractions or you just want to pamper yourself for the day. Enjoy a massage, facial, body treatment, manicures, pedicure, and much more!
Hours
The Spa is open 7 days a week from 7:00 a.m. to 9:00 p.m.
Treatments
Massages
Relaxation Massage
Aromatherapy Massage
Deep Tissue Massage
Facials
Euro Facial
Get up & Go
Supreme Eye & Lip Treatment
Deep Cleansing Facial
Gentleman's Facial
Hair & Scalp Conditioning
Balancing Remedy Facial
Radiance Facial
Canadian Maple Facial
Body Treatments
Botanical Wrap
Hydrating Cocoon
Crema Body Polish
Revitalizing Mud Wrap
Maple Sugar Glow
Manicures
Classic Manicure
French Manicure
Spa Manicure
Pedicures
Classic Pedicure
Spa Pedicure
Deluxe Spa Pedicure
Nail Polish Colour Change

TripAdvisor Traveler Rating
Awards
Certificate of Excellence 2019
Address
6740 Fallsview Boulevard
Niagara Falls, Ontario L2G 3W6
Contact