Mama Mia's Italian Eatery
Experience a little taste of Italy at Mama Mia's Italian Restaurant in Niagara Falls Ontario. Over the years Mama Mia's has served a variety of many delicious Italian dishes. Enjoy different dishes like Chicken Cacciatore, Chicken Parmigian and other delicious Italian specialties.
Mama Mia's was the 1999-2000 winner of the Niagara Falls People Choice Award for the "Best Italian Restaurant". This restaurant is also a former winner of the prestigious 'Family Restaurant of the Year' presented by the Niagara Falls Tourism Bureau. Mama Mia's has been delighting over 4 million tourists and locals for more than 40 years.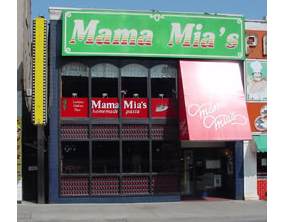 Overview
Mama Mia's offers pasta that is homemade and prepared to order. The cannelloni, manicotti, and lasagna are among other homemade specialties available at this Niagara Falls restaurant. Each dish is accompanied by a generous supply of freshly baked Italian bread.
Some of the great appetizers to begin your meal at this Italian Eatery include coold calamari salad, hot peppers stuffed with anchovies, antipasto, clams casino, escargot, shrimp cocktail, soups and salads.
Enjoy spaghetti or penne served with "Mama's" sauce or fresh garlic & extra virgin olive oil. These dishes can be dressed with meatballs, mushrooms, Italian sausage, veal cutlet or shrimp. Entrees at this wonderful restaurant include Venetian Chicken, New York Strip Steak and Shrimp, Chicken Cacciatore, Veal Parmigiana, and Chicken Francesca.
Hours
Open Daily
11:30 am – 1:00 pm

TripAdvisor Traveler Rating
Awards
Certificate of Excellence 2019
Address
5719 Victoria Avenue
Niagara Falls, Ontario L2G 3L5
Contact