Enjoy a Mid-Summer Days Holiday With Niagara Parks
August 6, 2016 @ 11:00 am

-

August 8, 2016 @ 12:00 pm

|

Free
Event Navigation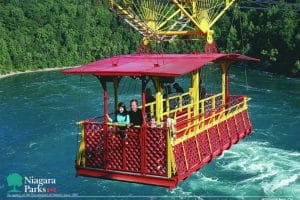 Falls Fireworks Series and Coca Cola Concert on the Queen Victoria Park Stage
Friday, August 5 and Sunday August 7; 8 to 10 p.m.
Enjoy the music of rock trio After U (August 5) and the Max Hilliard Band (August 7) on the Coca-Cola Concert Stage, followed by Falls Fireworks at 10 p.m.  Thanks to the continued strong support of destination partners on both sides of the border, including presenting sponsor The Tourism Partnership of Niagara, Canada's longest-running fireworks series continues to amaze and delight the thousands of visitors that gather each Friday, Sunday and Holiday during the summer, to witness the magnificent displays in Queen Victoria Park.
Whirlpool Aero Car 100th Anniversary Mid Summer Days Pop-Up Concert
Saturday, August 6; 6 to 10 p.m.
Join us in celebrating 100 years of the Whirlpool Aero Car attraction with this FREE concert featuring performances by THE DARCYS and Modern Space! NPC's culinary team will be on site providing a great summer BBQ and beer garden offering, featuring NPC's limited edition Aero Car Ale, a unique microbrew crafted by the Niagara College Teaching Brewery. For more information, please visit http://www.niagaraparks.com/l/mid-summer-days.html.
Annual Siege of Fort Erie Battle Reenactment Weekend
Saturday, August 6 – Sunday, August 7
Join us for Canada's largest annual battle re-enactment on Canada's bloodiest battlefield. Marking the 202nd anniversary of this important battle, events will portray the excitement and drama of the War of 1812 with an action packed schedule of events planned for the entire weekend.
Event highlights include battle re-enactments that will take place on Saturday August 6, at 11 a.m., 2 p.m., and 8 p.m., where hundreds of re-enactors will participate in Drummond's Night Assault on the Fort.
Follow the action up-close and then experience a dramatic Lantern Tour of the Fort under attack at 9 p.m. A memorial service honouring all of those who fell in battle will be held on Sunday, August 7, at 10:30 a.m. and the last battle re-enactment of the weekend, the American Sortie, will be held on Sunday at 1 p.m. For schedules and more information, please visit http://www.oldforterie.com.
Niagara Parks Amateur at Whirlpool Golf Course
Sunday, August 7
Spectators are welcome to come and watch the best amateur golfers from across the Niagara Region, as they compete on one of Canada's classic courses, Whirlpool! The Niagara Parks Amateur was first played in 1961, and over the years has consistently attracted many of the top amateurs in Ontario, competing for the historic F.M. Cairns Trophy. Since the event began, no winner has ever shot better than 70, proving that the Stanley Thompson designed Whirlpool Course has stood the test of time as a true challenge to the best in golf. The winner of the 2015 tournament, Mike Claxton, with a winning score of 71 (34 on the front; 37 on the back) will return to defend his title.
Whirlpool Aero Car 100th Anniversary Event
Monday, August 8; 10 a.m.
The continued operation of the Whirlpool Aero Car is a living testament to the brilliance and foresight of its original Spanish designer, Leonardo Torres Quevedo. An official plaque unveiling ceremony celebrating 100 years of the Whirlpool Aero Car will feature remarks provided by NPC Chair Janice Thomson and His Excellency, Carlos Gómez-Múgica Sanz, the Spanish Ambassador to Canada. The event will also include live entertainment, and Niagara Parks Culinary team will also be on site to present complimentary Spanish paella and cake to guests. Special guests will include members of the Torres Quevedo family, who are making a special trip from Spain to attend the anniversary celebrations.