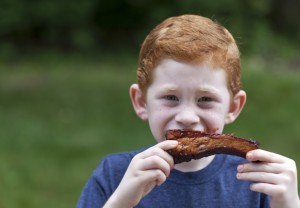 For the 11th year running, the Niagara Falls Rotary Club is sponsoring and putting on the Niagara Falls Ribfest, a celebration of barbecue, smoked meats, and ribs that's heralded as "Ontario's Number One Ribfest." Traditionally held over Father's Day weekend, this year's Ribfest is taking place one weekend earlier on June 12 through 14.
If you're trying to decide when the best time to head to Niagara Falls is, the second weekend in June would be hard to beat. Here's a look at what Ribfest has to offer from its lineup of musical entertainment to its ribs.
Entertainment
Live entertainment is offered all weekend long, starting at 4:00 p.m. and lasting until 11:00 p.m. on Friday; from noon until 11:00 p.m. on Saturday; and from noon until 7:30 p.m. on Sunday. The acts are quite varied and include local and regional acts. Some of this year's highlights include:
Vinyl Flux. The winners of the 2013 Best Band award at the Niagara Music Awards play at 9:00 p.m. on Friday.
Crowns Down. This high school-aged band plays at noon on Saturday.
Mudmen. These Celtic rockers play the last show of the festival at 5:30 p.m. on Sunday.
There will also be a Kids' Midway with plenty of fun for little ones, 50/50 drawings held every day, a car raffle, and Wi-Fi.
Vendors
Of course, no festival is complete without a bevy of vendors hawking their wares, and thankfully, Ribfest is no exception. Buy jewelry, body candy, African crafts, artwork, and even Jacuzzis. Visit booths promoting the Boys and Girls Club of Niagara, Believe Me Marketing, Costco, SCRC's Ride for Sick Kids, and much more. Take your children to the Home Depot craft spot on Saturday and Sunday afternoons, or just delight in watching little ones get their hands dirty. Get your face painted. Get tattooed, and of course, eat some ribs.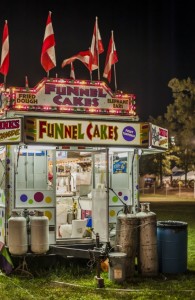 The Food
Known as the Ribbers, there are six different barbecue rib vendors slated to feed the masses at this year's Ribfest, and all of them are vying for customers and awards. Each year, the best ribs and the best sauce are decided upon by a panel of judges, with second and third places being awarded as well. There's also a People's Choice award given out. This year's Ribbers include:
Billy Bones
Silver Bullet
Bone Daddy
Crabby BBQ
Horn Dawgs
Texas Rangers BBQ
In addition to all the good ribs you can get stuck in your teeth, there are also vendors selling baked potatoes, ice cream, mini donuts, lemonade, elephant ears, deep-fried candy bars, kettle corn, and bloomin' onions.
The Ribfest is an incredibly popular event for locals, as it's a major fundraiser for the Rotary Club. Over the years, they've donated to Rotary House, GNGH Foundation, Pathstone Mental Health, Boys and Girls Club of Niagara, Literacy Niagara, the School Breakfast Program, and Habitat for Humanity, just to name a handful. So, if you're looking for a unique Niagara experience that will also contribute mightily to the good of the region, spend some time and dollars at the Niagara Falls Ribfest.
Share This