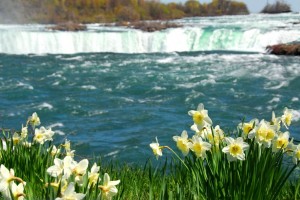 As we all know, it's been a long, hard winter in the Great Lakes area. Our famous falls have partially frozen over on two occasions, and while the phenomenon is great to fawn over and draws a number of tourists, it's a reminder that we've been in the clutches of Old Man Winter for a bit too long.
Now that the weather is slowly moving away from miserable it's time to think about all of the great things that happen in our neck of the woods when the seasons begin to change. As the plants begin to grow and change our landscape from one of icy white to a beautiful green, it's time to think about some of the wonderful spring activities that we can soon all participate in.
Queen Victoria Park
Located on the Canadian side of the falls, Queen Victoria Park comes alive when winter is over, and that is quite apparent when the park's collection of beautiful daffodils begin to bloom and remind us why Niagara Falls is known as the "Daffodil Capital of North America." Other plants and flowers in the park will be in bloom shortly as well, and the tulips and the lilacs are not to be missed.
Niagara Glen Nature Area
If you prefer to see flowers in their natural setting, consider a hike at the Niagara Glen Nature Area. Hundreds of native plants will soon be in bloom, and these include trilliums, columbine, and many more. Bring some binoculars so you can spot the birds as they return from their winter getaways and begin to construct their nests. Additionally, squirrels and other woodland creatures will be out in abundance, enjoying the warmer weather. If you're looking for more physical activity, bouldering the glen has become widely popular, after being sanctioned in 2011.
Swamp Creatures at the Butterfly Conservatory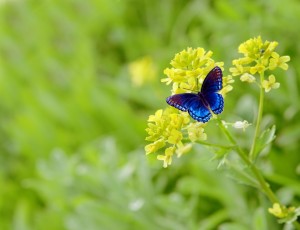 Running through May 11 at the Butterfly Conservatory is Swamp Creatures, an exhibit aimed at educating the public on the diverse creatures that inhabit wetlands and swamps. This exhibit is the perfect opportunity to get restless kids out of the house or hotel room and let them become immersed in all things swampy.
Live demonstrations take place throughout the day, and both kids and adults can take part in a great hands-on learning opportunity.
Floral Showhouse Annual Spring Display
If you're like us and love to revel in all things floral when it's cold outside, don't miss the Annual Spring Display at the Floral Showhouse. Open through April 11, this is a great opportunity to banish the cold in the warm greenhouse and take in the many varieties of tropical plants on display, including orchids, which are our favorite flower. The songbirds that live in the building contribute to the spring-like atmosphere, as well.
When the seasons change in our part of the world, it's a spectacular display of color and life that reminds us why we love Niagara Falls. Take advantage of the many different springtime activities that are available, whether it's visiting one of the beautiful gardens or hiking through our beautiful state parks. There's usually something new to discover in Niagara Falls in the spring.
Share This