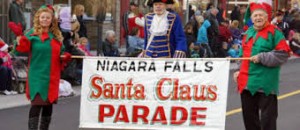 The CYTEC 5k Candy Cane Run is being held on November 16th 2013 at 9:30am. This event promotes healthy living and physical activity, so suit up in your Christmas clothes and run/walk with family and friends! This race is taking place Downtown right before the Niagara Falls Santa Clause Parade, so be prepared to get cheered on by the parade attendees! There will be a $250 prize for the fastest female/male and free t-shirts for all who register.
Make sure to register at the Niagara Falls Small Business Enterprise Centre (4321 Queen St.) before the race day is here!
Food and money donations will be collected the day of the race and will be given to the Project Share Christmas Basket Program, hope to see you out there!
Share This