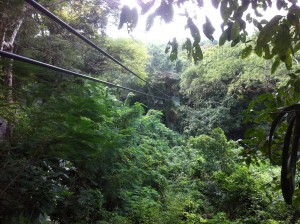 The Niagara Parks commission is in the process of adding upto 4 zipline attractions throughout their Niagara River property. The Zip lines could be opening as soon as next year if the NPC gets final approvals.
The 4 proposed zip line sites include a line that runs parallel to the Whirlpool Aero Car above the whirlpool and a second one that would run from the Maid of the Mist boat plaza to the power station near the base of the Falls.  A third line will operate from Rapidsview parking lot and a fourth will be at Thompson Point.
British Columbia Zip line designer Wildplay would use existing infrastructure where possible with minimal impact to the surrounding environment making Niagara Falls a destination for eco-adventure enthusiasts.
Would you visit Niagara Falls to participate in Zip Lining  ?
Share This