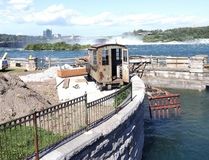 Many visitors to Niagara Falls have seen the Ice Drag, which looks like a small locomotive and is located a short distance from the Horseshoe Falls.
It's now being relocated next to a new pedestrian walkway under construction near the Canadian Niagara Power Bridge on the Niagara Pkwy.
The Ice Drag, an electrically powered locomotive weighing about 16 metric tonnes (35,000 pounds), once played an important role in helping remove the ice before it could enter the forebay in front of the former Canadian Niagara Powerhouse building.
The project is part of rehabilitation work being carried out by the Niagara Parks Commission to improve vehicular, pedestrian and cyclist traffic in Queen Victoria Park.
Share This