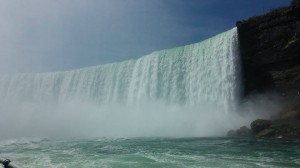 Be in the centre of it all by staying in Niagara Falls this summer!
The fun doesn't just end at the falls – there is more to explore nearby in Niagara-on-the-Lake, New York and Canada's largest city, Toronto.
When staying in Niagara Falls, you'll have access to the casinos, outlet malls and of course the waterfalls that make up Niagara Falls. The scenic view of this natural phenomenon includes tons of souvenir shops, attractions and natural paths through acres of parklands. The city offers a wide range of activities to do with your family or with that special someone.
If you want to visit Niagara-on-the-Lake, you're only a 15-minute drive away. In NOTL you can enjoy the vineyards and VQA certified wine that have made Niagara famous in the culinary world. The area holds tons of events, vineyards, culinary experiences, shopping and history for everyone to enjoy. The town's historical sites focus on the War of 1812, including educational programs and additional learning experiences as well as spooky ghost tours of the town's early buildings. A new outlet mall has just opened in NOTL as well giving you a chance to check out stores like Tommy Hilfiger, Forever 21, Lacoste, Nike, Marshalls and much more.
Across the Niagara River is the state of New York, where you'll find restaurant options and of course great shopping. With outlet shopping malls located 20-30 minutes away you can find a great deal and be back to Canada in no time to enjoy the rest of the Niagara Falls experience.
Toronto is located about an hour and a half away and is a great day trip option if you're visiting from over seas. The city boasts tons of attractions, restaurants and events throughout the summer.
In addition to the hundreds of different things to do in Niagara Falls, its close proximity to other areas in Ontario and New York make it a great central location to stay in.
Share This