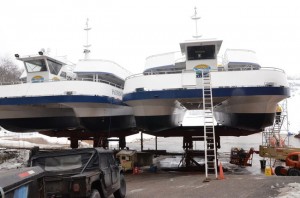 It's now official, the new company-Hornblower Niagara Cruises– that will operate two new catamaran tour boats below the falls has selected the names Niagara Thunder and Niagara Wonder for their new vessels.
Niagara Wonder and Niagara Thunder are the winners of an international contest to name the 700-seat tour boats, which begin operations this spring.
The names were selected in December from thousands of names submitted during an international contest to name the new state-of-the-art catamaran boats.
Niagara Wonder – was chosen by a local school. It was submitted by Lina Muraca's kindergarten class at Sacred Hearts Catholic Elementary School in Chippawa.
Niagara Thunder was submitted by Dharmesh Rami of Hyderabad, India, who wins an all-expenses paid trip for two to Niagara Falls to ride the boat he helped to name.
Share This