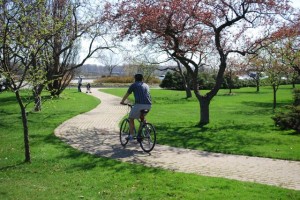 The Grand Tour Desjardins, a veritable bike touring institution in Quebec, brings together an impressive pack of more than 2,000 cyclists, who travel some 600 kilometres in seven days at their own pace.
From August 2 to 8, an impressive convoy of some 2,000 cyclists will travel hundreds of kilometers through the municipalities of Hamilton, Simcoe, Port Colborne and Niagara Falls.
The Grand Tour Desjardins is a turnkey bike touring event, including meals, accommodations (hotel or camping), en-route supervision, mechanical support and baggage transportation.
They can also take advantage of the daily activities offered, such as bicycle touring workshops, cinema and artistic performances at the Bistro du Village, as well as catch up on the latest news in Le Dechaine, the Grand Tour Desjardins daily newsletter.
Bike trip – Itinerary :
Departure/arrival : Hamilton, Ontario
Sunday, August 2nd, 2014 : Travel day
Day 1 – August 3rd, 2014 : Hamilton to Simcoe (89km to 155 km)
Day 2 – August 4th, 2014 : Loop around Simcoe (86 km to 178 km)
Day 3 – August 5th, 2014 : Simcoe to Port Colborne (118km to 142km)
Day 4 – August 6th, 2014 : Port Colborne to Niagara Falls (86km to 128km)
Day 5 – August 7th, 2014 : Loop around Niagara Falls (49km to 75km)
Day 6 – August 8th, 2014 : Niagara Falls to Hamilton (86km to 134km)
Share This