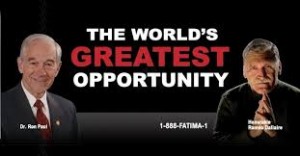 This September learn from world leaders in policy, security, and religion about the barriers to global peace.. The entire Fatima the Path to Peace event is filled with expert keynote speakers on an array of topics that will culminate in the revelation of this amazing opportunity that will change our world! Experience a session with renowned theologist and author Father Nicholas Gruner, and five-time Emmy Award winner Peter Lance from ABC's Nightline.
Dr. Ron Paul is the VIP keynote speaker at Fatima the Path to Peace convention occuring September 9th through September 13th. Get your tickets early to hear Dr. Ron Paul call for peace on September 11th at the Scotiabank Convention Centre.
The Canadian Military's Romeo Dallaire will also be speaking at the Fatima event. Learn from his experiences in multiple NATO operations about the true nature of conflict and how we all have a role in the future of peace.
Dr. Ron Paul Keynote is speaking on September 11th, 2013
5:00 pm – Meet and Greet with Dr. Ron Paul
5:45 pm– Dr. Ron Paul's Speech
6:35 pm– Question and Answer Session
7:15 pm – Gala Fundraising Dinner with Dr. Ron Paul
Share This