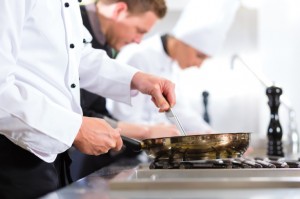 Niagara Falls and the surrounding regions are known for their abundant fertility, which is why so many foodies journey to the area to experience it. Every day in Niagara is a celebration of the Earth's bounty and the talent of food and beverage artisans, as countless restaurants and wineries showcase the region's local flavor.
However, at the beginning of every year, Canada's most illustrious chefs and winemakers pay homage to the area in the annual Cuvee festival that takes place right in the middle of Niagara Falls. This year, you too can taste the best of Niagara Falls during Cuvee in late February.
What Is It?
Cuvee is a celebration — of the glorious food, wine, and company available in Niagara Falls. However, more specifically, Cuvee is comprised of three events that beckon foodies from all walks of life.
The first is the Grand Tasting. With an atmosphere not unlike an outdoor fair, this event offers guests samplings of the region's best wines and foods, freshly prepared and poured at countless live cooking stations around the room.
Directly following the Grand Tasting is a less formal and more moving event: an after-party entitled Apres Cuvee. After becoming sated on the award-winning food and wine, guests are welcome to dance off their meals to live entertainment and enjoy sparkling wines and craft beers well into the night.
Finally, the largest and most flexible event of the festival is Cuvee en Route, which takes guests directly to the region's best wineries and restaurants for specially prepared flights of wine and meal pairings. The list of participating vendors changes and expands every year due to the popularity of Cuvee.
When Is It?
In 2015, Cuvee will take place during the last weekend in February. That means from Friday, February 27 to Sunday, March 1, visitors will be subject to some of the best food and wine on the continent.
Arguably the most exciting event, the Grand Tasting, occurs the very first night, February 27, from 7:30 p.m. to 10 p.m. Apres Cuvee then spans 9:30 p.m. to midnight. However, Cuvee en Route can be enjoyed at all times during the following two days of the festival.
Where Is It?
Niagara Falls is more than a city — it is an entire culinary region waiting to be explored. While the kick-off event, the Grand Tasting and its accompanying after-party, is held in the Fallsview Casino Resort, the vast majority of the festival's activities take place all around Niagara country. Cuvee en Route will take you to various wineries and restaurants to sample specially prepared meals in iconic spaces.
How Do I Get In?
Tickets are currently on sale for any of the events of Cuvee. The Weekend Ticket grants permission to all of the festival's attractions, including the Grand Tasting, Apres Cuvee party, and Cuvee en Route. Alternatively, for less expense, visitors can purchase only a Passport for Cuvee en Route to gain access to the special services at participating wineries. Note that attendees must be at least 19 years old to purchase tickets.
While the festival is meant to be enjoyed as a cohesive unit, guests are allowed to opt out of certain events in favor of exploring other areas of Niagara Falls, like the verdant parks or thrilling attractions. After all, foodies may be devoted to high-quality meals, but that doesn't mean they don't enjoy a boat ride or an arcade game while on vacation.
Share This