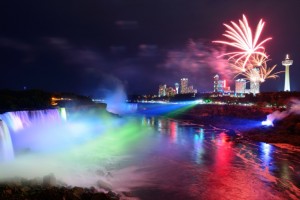 Celebrate New Year's Eve in Niagara Falls !
Ring in the New Year in Niagara Falls and join one of Canada's longest running New Year's Eve celebrations!
This year's concert line-up will feature musical performances by Down with Webster, Alan Doyle, Dennis DeYoung, and Tom Cochrane and Red Rider. This highly anticipated free show will begin at 8:00 p.m., in Queen Victoria Park. The outdoor celebration also features a variety of food and beverage options, as well as an outdoor licensed area. Two magnificent fireworks displays will also be launched from the Niagara Gorge and the Skylon Tower, at 9:00 p.m. and again at midnight.
Share This