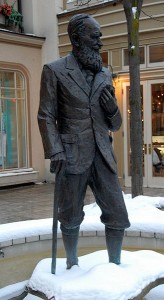 Niagara Falls is much more than just the falls. Once you've taken in the falls from both sides, as well as from above, below and behind, you can still find plenty to occupy yourself in and around the town of Niagara Falls itself.
Book a hotel room close to the action so you can enjoy one of Niagara Falls' celebrated shows. Whether you're looking for an adults-only night out or entertainment for the whole family, Niagara Falls will not disappoint. Drive to nearby Niagara-on-the-Lake this summer to catch the world-famous Shaw Festival, or take in a dinner show or gawk at a magic act. If you're looking for a thrill, try the local IMAX Theatre.
Greg Frewin "Imagine"
Greg Frewin's magic show "Imagine" is great for kids of all ages. The Vegas-style review features the world-renowned magical talents of Greg Frewin, as well as stunning appearances by his rare and exotic tigers. Mr. Frewin has won first place in all the world's biggest competitions of magic and has performed at the Tropicana, The Flamingo Hilton and Caesar's Palace in Las Vegas. His magic act has also been featured on global television more than 35 times. "Imagine" takes place at the Greg Frewin Theatre, a 700-seat dinner theatre at 5781 Ellen Ave. in Niagara Falls, Ontario.
Oh Canada Eh? Dinner Show
Oh Canada Eh? Dinner Show is Canada's is the longest-running musical dinner show in Canada — it's now in its 21st season. Winner of seven Niagara Falls Attraction of the Year awards, this dinner show has attracted more than 600,000 guests from around the world. Characters include the Singing Mountie, who will serve you a family-style meal of French Canadian pea soup, salad, roast beef, Atlantic haddock, roast chicken, vegetables, potatoes and maple chocolate cake. Songs range from modern pop hits to rustic folk songs.
Shaw Festival
Every summer since 1962, the Shaw Festival has showcased works by George Bernard Shaw and others of his period. Modern plays are showcased alongside contemporary ones. The festival is held at the four theaters in nearby Niagara-on-the-Lake, just a 30 minute drive from Niagara Falls. This summer's plays include "Cabaret," "When We Are Married," and "The Philadelphia Story."
Niagara IMAX Theatre
Now that you've seen the falls for yourself, take a trip back in time when you watch "Niagara: Miracles, Myths & Magic" at the Niagara IMAX Theatre. Get a birds-eye view of the falls as you go back to a time before they were discovered by Europeans. Watch as the Great Blondin completes the first tightrope crossing of the Niagara River in 1860, and see 63-year-old schoolteacher Annie Taylor become the first person to go over the falls in a barrel. After the film, take in the Daredevil Exhibit located inside the theatre.
If you're looking for something to do at night in Niagara Falls, why not take in a show? The area boasts some of the best entertainment in North America. Whether you're in the mood for history, magic, music or classical theater, there's something for everyone in this romantic city.
Share This