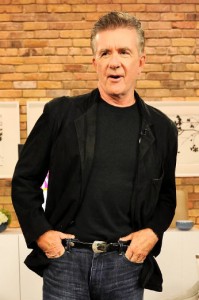 Next week, Thicke goes old school by hosting a week-long stint of 'Dancing With the Pros' at the Niagara Fallsview Casino, recalling his days of hosting game shows like First Impressions and Animal Crack-ups in the '70s and '80s. Tickets
The Kirkland Lake-born Thicke has made a career out of not sticking to one career.
Since then he has written two books, appeared in dozens of movies (theatrical and made-for-TV), and written a song for son Robin, whose cheeky single Blurred Lines is one of the summer's most unavoidable hits.
He's especially proud of Robin, whose long music career has finally netted him a #1 single this summer.
Thicke will host a one-of-a-kind contest at Fallsview Casino in which audience members will be given an electronic device to cast votes after Latin, ballroom and contemporary dance routines. Fox's American Idol competitor Joanna Pacitti co-hosts and accompanies several dance numbers singing chart-topping hits.
The three-member judging panel includes National Ballet of Canada legend Rex Harrington, professional ballroom dancer Kym Johnson and Dancing With the Stars judge Jean-Marc Genereux.
Long before he was a talk show host or Kirk Cameron's dad, he was composing the theme songs to shows like Different Strokes and The Facts of Life, and was head writer for Norman Lear's parody talk show Fernwood 2 Night.
July 18, 20, 21, 22, 23, 24 at 3:00 p.m.
July 18, 22, 23, 24 at 8:30 p.m.
July 19, 20 at 9:00 p.m.
July 21 at 7:00 p.m.
Tickets start at $ 25.00
Share This