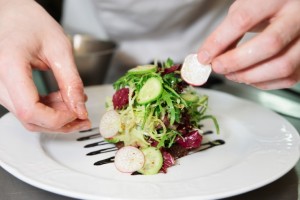 The Niagara region is known for a lot of things: Amazing waterfalls, the Niagara Gorge, world-class wineries, and plenty of excellent family entertainment. While it isn't usually the first thing that comes to mind when people speak about Niagara, another routinely heralded form of fun and satisfaction that can readily be had is the exceptional cuisine available at so many area restaurants. Aided by bountiful farms, orchards, artisanal cheese makers, and talented chefs, mealtime — especially dinner — is its own reason to come to Niagara. If you love to eat and you're considering a trip to the Niagara area this fall, here are two unique culinary experiences that can only be had in Niagara Falls on two different Fridays this November.
Niagara Parks Apprentice Cooks & Chefs Showcase Dinner
If you like your stellar food served up with a side of doing good for others, you should definitely schedule your Niagara vacation to fall at the same time as the Niagara Parks Apprentice Cooks & Chefs Showcase Dinner. An annual event that will take place Friday, November 6, this benefit for the Niagara Parks Apprentice Cooks Scholarship Fund is a great way to see exactly what some of the area's up-and-coming talent can pull off when placed alongside an established chef over a six-course meal. Held at the beautiful Queenston Heights Restaurant, the view you'll have of the Niagara River amid the restaurant's rustic and intimate setting is an ideal way to experience such exquisitely prepared local food. Be sure to get reservation ahead of time if you'd like to attend.
Tickets for the fundraiser are $100 a piece and include gratuity and tax. Each course is paired with VQA wines, and the whole evening starts with passed hors d'oeuvres at 5:30 p.m. before guests are seated. From smoked Ontario Pork Bouchées and Pepper Berry-rubbed Erie Yellow Perch to a Leek and Yukon Gold Potato Gratin and Amarula truffles, the night promises to be rich in food, wine, and the sweet glow of knowing that all that good eating and drinking is simultaneously benefitting others.
A Culinary Tour of Piedmont at the Rainbow Room by Massimo Capra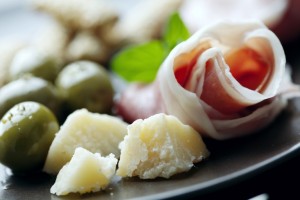 If, on the other hand, you'd like a culinary experience only a celebrity chef can provide, reserve your seat for Friday, November 13, at Massimo Capra's Rainbow Room for a culinary tour of Piedmont. Many foodies and experts consider Piedmont to be the centerpiece of Italian cuisine, especially as it relates to both the global slow food movement and the area's white truffle season, which gets celebrated in delicious decadence each autumn. As both wine and food are held in the highest esteem in Piedmont, both will be in grand abundance at the Rainbow Room.
It will be an evening steeped in one of Italy's most beloved places, as Capra's unique menu brings to life the flavors, scents, and presentations of some of Piedmont's most storied dishes via the bounty of Niagara. Courses will be paired with Piedmont winery Pio Cesare, where some of the region's finest wines have been crafted for over 130 years. Dinner is $125 per person and includes a cocktail reception with Mossimo Capra, an unforgettable five-course meal, and paired wines.
Whether you want to give back or you want to eat and drink in Italy by way of Niagara Falls, these two culinary experiences make a vacation to Niagara in November a must for the food lover.
Share This