Niagara Falls Hotels » Niagara Falls Attractions » Hershey's Chocolate World
Hershey's Chocolate Chocolate World Niagara Falls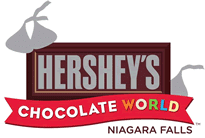 Satisfy your sweet tooth at Hershey's Chocolate World Niagara Falls! Located on Falls Avenue inside the Crowne Plaza Niagara Falls hotel, this store is the only one of its kind in Canada. This unique retail attraction features 7,000 sq ft of decadent treats and mouth watering indulgences. Chocolate dipped strawberries, thick & rich milkshakes, a variety of melt in your mouth fudge flavours, and fresh baked cookies are just a few of the irresistible sweet treats you'll find.
Hershey's Chocolate World Niagara Falls also offers a wide selection of packaged candy, confections, novelty items, as well as exclusive souvenirs and memorabilia. In addition to Hershey's chocolate, the store offers a range of products from Hershey brands including Twizzlers, Jolly Rancher and Reese.
If you're looking for the perfect gift for the chocoholic, Hershey's Niagara Falls is sure to have it. The store is home to the 5lb Hershey's Milk Chocolate Bar, and World's largest Reese cup - which is 1/2lb of rich chocolate and creamy peanut butter (available in single or double packs).
Luscious dessert trays featuring fresh store made items and custom gift basket can be designed and wrapped for a seamless presentation. For an easy gift, choose a convenient Grab and Go basket designed to accommodate every budget.
If you can't make it to the store, we'd be happy to ship items to you, call the store for details at 905-374-4444 ext 4272.